STAR AND SNOWFLAKE-SHAPED HOTELS
20 Aug 2014
Floating hotels and dwellings in the shape of a star, a snowflake and an ocean flower.
Dutch Docklands has developed numerous concepts for floating hotels and dwellings, with their projects scattered all across the globe, specifically in the Maldives, the US, Norway, and the Middle East. The schemes are often composed as large-scale symbolic forms, which are representative of their given region. Three of their designs take the shape of a starfish, a snowflake and an ocean flower.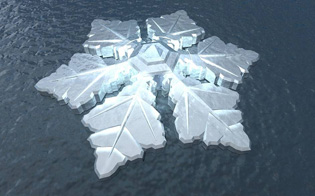 The 'Greenstar', situated in the middle of an atoll in the Maldives, is a floating convention centre and hotel composed of five appendages. The structure is built of terracing levels and covered in green materials. Intended as a symbol for ecological design and environmental integration, the complex is envisioned as a primary location for conferences regarding climate change, water management, and sustainability.
Plans have also been unveiled for a snowflake-shaped hotel which will float off the coast of Norway in the Arctic Circle.
The 86 room luxury venue known as The Krystall will offer clients a unique destination and an unrivalled spot from which to view the spectacular Aurora Borealis.
The Krystall will initially be built in sections on a wharf before being dragged into position, after which it will only be accessible by boat.
The hotel is designed to be completely self-supporting and self-sustainable. Facilities will include 86 guest rooms, conference rooms, and spa and wellness centre. The interior design will let you "float through hallways lined with cool, futuristic blue shapes, recline by a fireplace faced in transparent bricks resembling ice blocks and sleep in rooms tricked out in minimalist, winter-themed designs."
Construction is expected to start mid-2015 with the hotel due to open around Christmas 2016.
And lastly, in a joint venture with the Government of the Maldives, the company is developing 'the ocean flower', which is comprised of waterfront villas arranged in the shape of a typical flower from the region.
The project's first phase includes 185 dwellings, with each featuring its own private pool. The master plan also contains a beach, restaurants, shops, diving centre, spa, and a separate private island.
The complex is located only 20 minutes by boat from the country's capital of Malé and its international airport.
Images (top to bottom): 'Greenstar', The Krystall (snowflake-shaped hotel); and 'The Ocean Flower'.
SEARCH
SUBSCRIBE TO ENEWS
MORE NEWS
DOUBLE THE FUN WITH PROSLIDE FLYINGSAUCER®
DUST CONTROL SOLUTION FROM SOILBOND
THRIVING IN THE GOLDEN YEARS WITH OUTDOOR TRAINING
ALL THE BELLS, LESS OF THE WHISTLES
URBAN STREETSCAPE GETS A FACELIFT
THE IMPORTANCE OF SHADE STRUCTURES