SMART HIGHWAYS
30 Apr 2014
Glow-in-the-dark road markings have replaced street lights in The Netherlands in a project designed to make roads more sustainable and secure.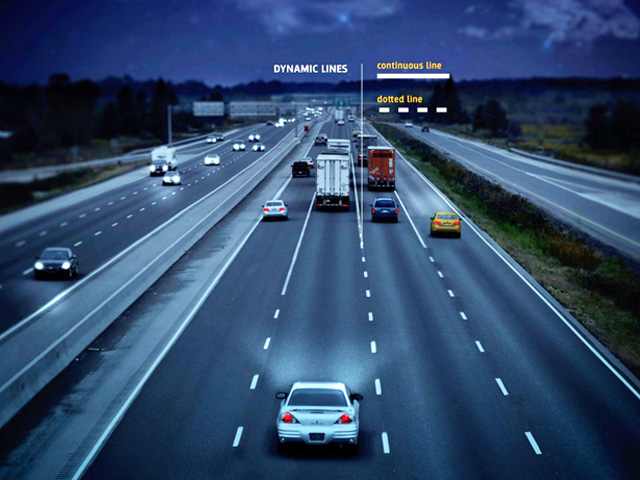 Light-absorbing glow-in-the-dark road markings have replaced standard street lighting on a 500 metre stretch of highway in The Netherlands. This project is the first stage of a concept first unveiled back in 2012 by designer and innovator Daan Roosegaarde, who presented his 'Smart Highway' plans during Dutch Design Week.
The goal of the 'Smart Highway' is to make roads more sustainable and secure by using interactive lights, smart energy and road signs that adapt to specific traffic situations.
To make the roads glow in the dark, they are treated with a special foto-luminising powder that makes street lighting unnecessary. The powder is 'charged' by the sun during the day, which allows the marks to glow for up to 10 hours at night.
Dutch reporters who have already taken a test drive on the new road say, "It looks like you are driving through a fairytale."
Roosegaarde said of his idea, which won him a prize for the 'Best Future Concept' at the 2012 Dutch Design Awards, "One day I was sitting in my car in the Netherlands, and I was amazed by these roads we spend millions on but no one seems to care what they look like and how they behave. I started imagining this Route 66 of the future where technology jumps out of the computer screen and becomes part of us."
SEARCH
SUBSCRIBE TO ENEWS
MORE NEWS
PARK WARRIOR COURSES ARE SPRINGING UP ACROSS AUSTRALIA!
CENTRAL PARK VISION FOR MIDTOWN MACPARK
LANEWAYS REVITALISATION PLAN
CREATING TIMBER ALTERNATIVES
SYDNEY'S NATURAL STONE SPECIALISTS
NATURE-BASED PLAY