SHADES OF GREEN
30 May 2019
Nature is full of green in thousands of shade variations. It is a colour that evokes tranquillity and harmony, and for landscape designers, selecting the right foliage colour can be just as important as the form of the tree and its function in the landscape.
Seldom would we feel anything other than relaxed and refreshed in a green environment regardless of its shade. But there are many shades of green with varying hues and intensities. To assist the landscape designer, Speciality Trees has categorised 'green' into five main categories.
LIME GREEN
Lime green is the most intensive of greens. This is a shade that can promote feelings of energy and creativity depending on its level of brightness. These trees create a visual focus and team well with blue and indigo. For contrast, plant alongside bright fuchsia, purple and red plants.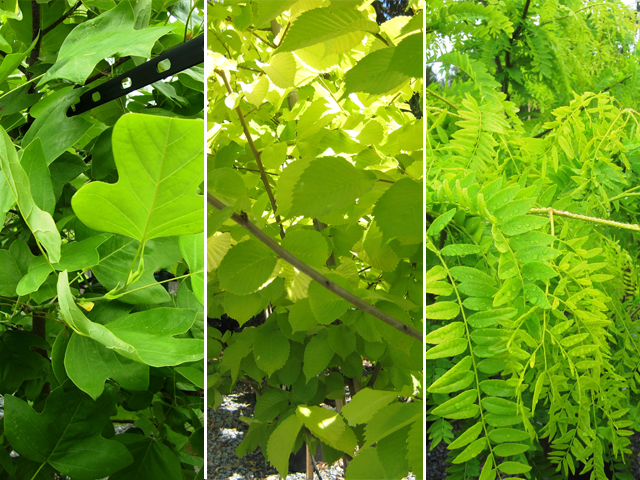 Left to right: Liriodendron tuliperifera, Ulmus glabra 'Lutescens' and Gleditsia triacanthos 'Sunburst'
MID-GREEN
Mid-green is a medium shade of green, similar to forest green or pea green. It pairs well with other greens and purples, including shades of lilac. To create contrast, team with pale yellow or orange. Depending on the depth of mid-green, it could even be planted with burnt orange to create impact. Blending mid-green evergreen trees with deciduous trees in autumn will create this magical colour combination.
Left to right: Lophostemon confertus, Waterhousea floribunda 'Whisper' and Cercis canadensis
GLOSSY GREEN
Sometimes texture and finish is important when choosing trees. Selections with glossy foliage can instil an element of class in a landscape design or provide a specific highlight where required.
Left to right: Magnolia grandiflora 'Coolwyn Gloss', Viburnum 'Awabuki' and Tristaniopsis laurina 'DOW10 Luscious'®
DARK GREEN
Dark green is often associated with wealth and money; it is no wonder that the US dollar is the Greenback! Dark green matches with a myriad of options in landscaping design and can complement just about any other hue such as yellow, orange and purple.
Left to right: Laurus nobilis (Bay Tree), Allocasuarina littoralis and Prunus lusitanica (Portugese Laurel)
BLUE-GREEN
Blue-green (and blue-silver) is a colour that is endearing in landscape design as it represents a beautiful segment of the Australian bush. These shades are cool and vary towards mint or silver, depending on the level of chlorophyll in the leaf. Great effects can be achieved by accentuating a design with this shade and they look especially good planted with pinks, whites, blues and burgundy red.
Left to right: Banksia integrifolia 'Sentinel', Eucalyptus leucoxylon 'Rosea' and Corymbia eximia nana
For more tree selections and recommendations to suit your landscape design, contact Speciality Trees on 03 9796 8308 or via the links below.
SEARCH
SUBSCRIBE TO ENEWS
MORE NEWS
THE BEST PLANT YOU HAVE NEVER HEARD OF
FLEMING'S ASPIRE TO GREAT HEIGHTS
TREES FOR SENSORY GARDENS
NATIVE COUNTRY WINDBREAKS
WHICH PLANT WHERE?
FLOWERING GRAFTED WEEPERS