SELF-REGULATING KINETIC CONSTRUCTION
22 Jul 2015
Henning Larsen Architects aimed to set a benchmark for green design with this university building in Kolding, Denmark, which features a climate-responsive kinetic facade and a triangular form.
The Syddansk Universitet communications and design building in Denmark has a distinctive isosceles triangular shape that creates a highly visible new presence for the university. According to Henning Larsen Architects, the building is also the first to meet the stringent energy targets of Denmark's 2015 building codes.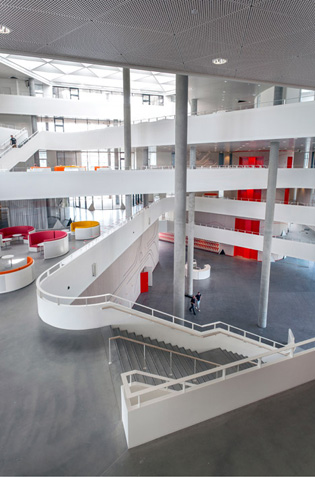 The triangular motif of the facade's perforated metal sunshade, which includes 1600 panels, references the form of the building. Sensors monitor heat and light levels around the building, allowing the facade panels to shift from open to half-open to fully open. Even when fully closed, a controlled amount of natural light is able to shine through into the interior via a custom pattern of round holes.
"The triangular shape was generated by the site," said Louis Becker, design director at Henning Larsen. "We wanted to leave room for outdoor public space, and to take advantage of the nearby Kolding River."
Key spaces inside the 13,700sqm building, which includes a large atrium and lecture theatre, feature triangular plans. Concrete slabs are left exposed to take advantage of thermal heat gain. The ventilation system is integrated into the ceiling planes, rather than through traditional ducts, which cut both energy and construction costs. Efficient LED lighting is used throughout, while photovoltaics and solar-heating panels dramatically reduce the amount of energy taken from the grid.
"The energy demand is reduced by 50 per cent compared to similar buildings of the same typology in Denmark through passive design measures and the implementation of efficient and intelligent systems," Becker said.
The skylight-topped central atrium is criss-crossed with stairs and catwalks. At night, when the building is lit from within, it appears far more transparent than it does during the day, creating a visual connection from outside to the inner workings of the school.
Open bench desks line the atrium railings, allowing for informal meetings, while quieter areas are located along the exterior facades.
"The university wanted to create an energetic, community-oriented university of the future, and to increase interaction between professors, researchers and students," Becker said.
SEARCH
SUBSCRIBE TO ENEWS
MORE NEWS
ART MEETS PLAY WITH BLADE RECREATION
CUSTOMISED OR BESPOKE PLAYGROUND: WHICH IS BEST?
BEHIND THE SCENES AT THE HILLS BARK BLOWER
3 INDICATORS OF AN EFFECTIVE OUTDOOR PLAY SPACE
VISION FOR VICTORIA PARK
TRANSFORM OUTDOOR SPACES WITH GOSFORD QUARRIES SANDSTONE