ROCKING AROUND THE RIVERSIDE
04 Oct 2018
After a detailed site analysis, Street + Garden designed a suite for the Rockhampton Riverside project with a unique character that complements and is sympathetic to the local heritage architecture.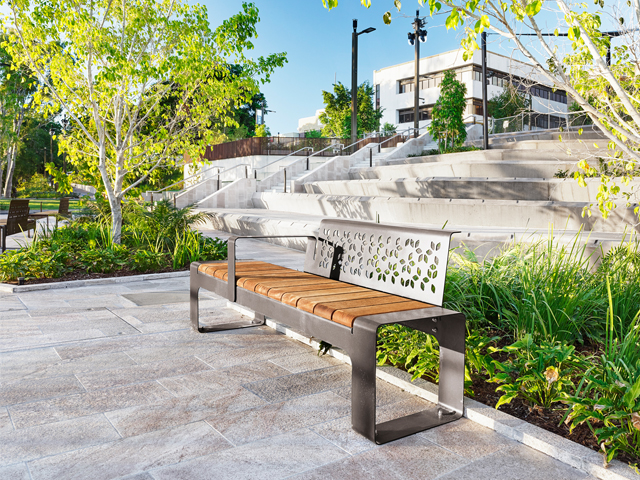 In order to meet the brief for Rockhampton Riverside, given by project landscape designers Urbis, a robust and minimal material palette of sheet metal and timber was the starting point for the design of this street furniture, which included a range of subtle colour options. One of the major references that Street + Garden used for the suite was the dappled shade of the site's prominent fig trees, with this detail expressed in the custom pattern that was applied across all the furniture types.
This pattern was subsequently utilised by various project partners on other aspects of the site, including wayfinding signage and architectural screening.
The furniture suite is very comprehensive and includes bench seating, integrated table settings, banquet tables, bollards, bin surrounds, drinking fountains and bar stools. One of the other key items within the suite is the lantern seating, which offer a major feature element and allow for community engagement and nightlife activation within the space.
The river is an obvious feature of the site, but given the recent issues that the city has had with large flood events, the furniture suite needed to be mindful of how it might deal with these situations. The selected material palette is robust enough to weather these severe conditions and the thin profiles and heavily perforated surfaces allow for efficient water flow and easy cleaning.
The overall vision for the project from Urbis was to develop the site as a focal point of the city and as a hub for community activity. The flow-on effects have had a major impact on the social, environmental and economical benefits to the city.
Urbis Landscape Architects were given the 2018 Award of Excellence in the Parks and Open Space category at the 2018 AILA Awards, and Street + Garden are very proud to have been able to collaborate on making this such a successful project.
Project | Rockhampton Riverside
Client | Urbis Landscape Architects
Design | Surya Graf
Photo | Florian Groehn
SEARCH
SUBSCRIBE TO ENEWS
MORE NEWS
THE OUTDOOR BENCH SEATING SPECIALISTS
GRILLEX IMPROVES WELLBEING THROUGH PUBLIC SPACES
SUSTAINABILITY | A NEW APPROACH
TEA FOR TWO | STREET FURNITURE AUSTRALIA AND YOU
ENCOURAGING DIVERSITY THROUGH INCLUSIVE SPACES
APPLYING ACUPUNCTURE TO A PUBLIC SPACE