REPTILIAN PAVILION FOR MILAN EXPO 2015
28 May 2014
China's largest urban developer looks to create better communities with a twisted, serpent-like structure at Expo Milan 2015.
New York-based architect Daniel Libeskind has proposed a twisted serpent-like structure clad in a self-cleaning, air purifying, metallised tile for Vanke's pavilion site at Expo Milan 2015.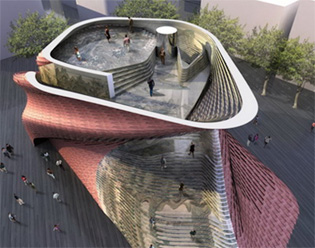 Vanke is China's largest property developer and this marks the first ever Expo pavilion site for a stand-alone Chinese company.
Branching from the Expo's overarching theme "Feeding the Planet, Energy for Life", the pavilion reinterprets the traditional Chinese Shitang (dining hall).
Described by Vanke Chairman Wang Shi, the pavilion is intended, "to express our idea of urbanisation and community through the experience of food. Indeed, food is one of the most effective ways to understand a culture: the ritual of eating and talking together is important in every community because by eating together it is possible to get to know each other better. Vanke is an 'urban developer,' and our mission is to create better communities to offer a better life to our customers".
Ancient Chinese teachings and Renaissance art are also cited as some of the inspirations for the building, whose twisted shape is intended to create a continuous flow between inside and outside spaces.
The pavilion's sinuous form will welcome visitors with a grand staircase of white mosaic tile which will lead them into an "interior constellation" of more than 300 screens playing short films that capture the importance of "Shitang" in everyday Chinese life. Once inside, visitors are offered views of the surrounding context and lakes via a roof-top observation deck.
"Shitang" is already under construction onsite at Expo Milan 2015.
SEARCH
SUBSCRIBE TO ENEWS
MORE NEWS
DRIVEABLE SURFACE EROSION PROTECTION
CIVIL CONSTRUCTION PRODUCTS FOR EVERY SPACE
ONE-OF-A-KIND OUTDOOR GYM
AIM TO INSPIRE WITH AUSTEK PLAY
A REGIONAL SUCCESS
CLIMB HIGH WITH OMNITECH TOWERS