PICTURESQUE PARK UPGRADE AT BALLARAT
03 May 2018
The team at CIVIQ have produced a suite of signage and drinking fountains throughout Ballarat's upgraded Lake Wendouree park precinct, providing the perfect solution to ensuring all visitors enjoy a cohesive wayfinding experience.
The project involved the design, manufacture and installation of CIVIQ's signature FlexiSign (signage totem) and FlexiFountain (drinking fountain).
"The FlexiSign and FlexiFountain products both use a similar heavy-duty, modular design," explains CIVIQ Product Manager, Adrian Wilson. "A consistent design language is achieved by specifying the FlexiSign and FlexiFountain together in this fashion – it really enhances the ambience of the park."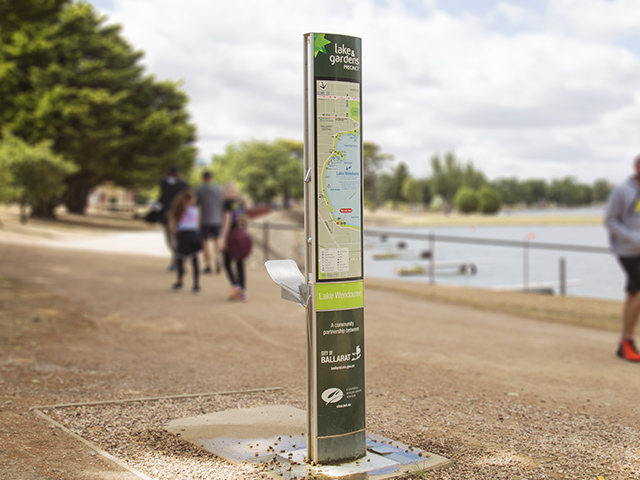 The end result is a stylish wayfinding solution that combines signage and drinking water products with a consistent visual look.
CIVIQ's FlexiSign was originally developed for the public transport sector and can be seen at bus and tram stops across Melbourne, Sydney, Brisbane and the Gold Coast.
"When developing the Aquafil drinking fountains, we adopted the same technology as our FlexiSign range," explains Adrian. "This allows councils to convey public messages, user instructions, and wayfinding graphics on the water stations themselves, which has proven to be an extremely useful and popular design feature."
The Lake Wendouree precinct has been upgraded in several phases, with the drinking water station component a joint initiative between Central Highlands Water, City of Ballarat, and the Yarra Valley Water 'Be Smart Choose Tap' initiative.
The Choose Tap initiative focuses on decreasing single-use plastic bottle waste by educating the public about making smart water choices and choosing tap water over pre-packaged products.
Jeremey Johnson, Chair of Central Highlands Water, explains, "The Aquafil drinking water fountains feature bottle refill dispensers, a wheelchair accessible dispenser and a dog drinking bowl, and in turn promote the benefits of drinking tap water as part of a healthy lifestyle and as a positive alternative to bottled water".
SEARCH
SUBSCRIBE TO ENEWS
MORE NEWS
TIMBER OUTDOOR LUNCH AND LEARNING AREA
REJUVENATED SUNNY'S CAFé
WHAT MAKES A DRINKING FOUNTAIN DDA COMPLIANT?
CREATING PARKS FOR PEOPLE OF ALL ABILITIES
THE BENEFITS OF USING AUGMENTED REALITY TO DESIGN PUBLIC SPACES
DOGGIE DUNNIE | A DOG PARK NECESSITY