PHILLIP ISLAND GETS ALL-ACCESS AMENITIES
17 Mar 2020
Joining the Changing Places movement, the new Cowes Transit Centre on Phillip Island now has a new state-of-the-art disability-compliant public restroom from Landmark Products.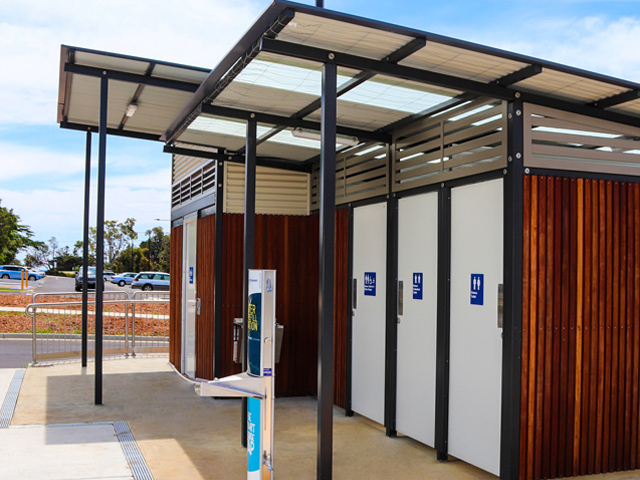 Part of the revitalisation of the Cowes Transit Centre in Victoria, the new disability-compliant bathroom facility was installed to benefit locals, as well as the growing number of visitors coming to Phillip Island as a result of the major improvements to the nearby popular Penguin Parade.
Changing Places is a revolutionary international project that advocates for all-access public restrooms in major public spaces. These restrooms help transform the lives of people with high support needs, allowing them to visit public spaces for long periods of time.
With over 30 years' experience delivering public restrooms around Australia, Landmark Products is the ideal partner for the design, manufacture and installation of Changing Places restrooms. Changing Places restrooms are a welcome addition to public parks and venues throughout Australia and are becoming a community expectation.
In the UK, where the Changing Places movement began, there are already well over 1200 facilities.
Standard Changing Places facilities include:
Overhead automated hoist (constant charge)
Accessible WC including backrest and lift-up grab rails
Two 800mm long horizontal grab rails
Automatically operated adjustable height change table, 1800mm long with safety rail
Sanitising wipe dispenser with shelf over
Integrated wash hand basin
Hand dryer
Rubbish bin
Retractable privacy curtain, wall mounted
Soap dispenser
Clothes hook
Large sling hook
Automatic door control
Commercial vinyl floor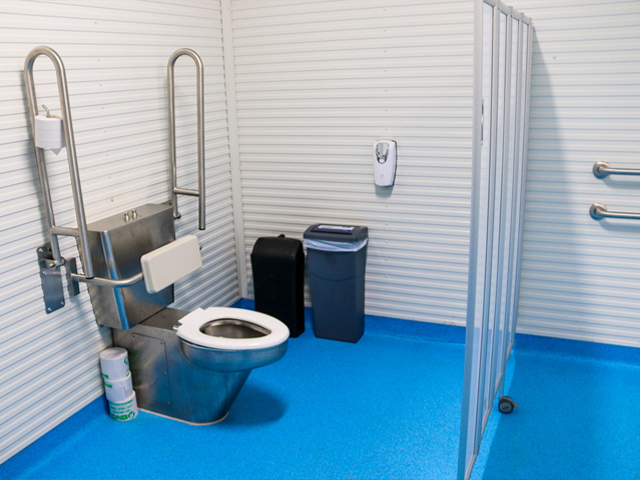 Landmark Products specialises in two standard standalone Changing Places restroom floor plans: Type 1A (no shower) and Type 2 (with shower).
Landmark's designs for these restrooms are modern and spacious, allowing for easy cleaning and maintenance, and provide all the automatic equipment and features that are standard with Changing Places requirements. They also feature standard toilet cubicles that offer the maximum range of public amenities. All materials used in the construction of Landmark Products' Changing Places restrooms are chosen for durability and cost efficiency. As with all Landmark products, the full Changing Places facility is delivered onsite in kit-form, ready to be quickly constructed with minimum onsite disruption.
WHY CHOOSE LANDMARK PRODUCTS?
Landmark Products is one of the only companies in Australia that offers a full-service package, from design and manufacture to delivery and installation. Its products have an extended structural warranty for 20 years, giving buyers peace of mind when they purchase Landmark products.
Landmark understands the demands placed on public-use products and has thus designed and constructed solutions that are built for long-life from quality materials.
Landmark has Australia's largest range of standard open space structures and park furniture, available for almost every specification. Each product is engineered and manufactured to suit individual site specifications that match the location, environment, application and budget.
Landmark is renowned for its prompt and effective service, from the first enquiry right through to project completion. The customer service staff and project consultants are experts in their field and will guide you step-by-step throughout the process. Landmark structures arrive flat-packed and ready to be assembled with no onsite fabrication needed. Kit-form structures greatly minimise the waste, noise and public and environmental disturbance to the area, and are much quicker to install.
Use the links below to find more from Landmark Products
SEARCH
SUBSCRIBE TO ENEWS
MORE NEWS
UNDERSTANDING WASTE STREAMS
DRINKING FOUNTAIN INSPIRED BY NATURE
SOAK UP THE GREAT OUTDOORS WITH RAINWARE
SECURE BIKE SHELTER AT BEACONSFIELD
ADD VALUE TO EXISTING SPACES WITH GRILLEX
CREATING PARKS FOR PEOPLE OF ALL ABILITIES