PERFECT PLANTS FOR THE URBAN LANDSCAPE
30 Aug 2018
The Australian urban landscape offers many challenges for landscapers: plants need to be low maintenance and horticulturally appealing while surviving the harsh Australian climate. Bush Magik offer a selection of plants that fit the bill.
The Bush Magik plant selections fit the new ecology of the Australian urban landscape. Horticulturally appealing, with a low maintenance requirement and a naturally good habit, these plants are the ideal solution for an outdoor urban landscape.
For best results prepare soils for all new plantings by initially feeding with a slow-release, low phosphorus fertiliser to help establish the plant. Mulching around the base of the plant will help retain moisture and suppress weeds, a water top-up over prolonged dry periods keep all plants in good condition and will ensure they continue to be a valuable asset in any landscape.
Highlighted are just a few selections from Bush Magik's plant range that showcase stunning results for both Melbourne's inner and outer metro areas.
CASUARINA GLAUCA PROSTRATE SHAGPILE
Shagpile is a selected form of Casuarina glauca. This plant has a prostrate cascading ground cover habit, making it suitable for any garden that requires low borders or can be used to cascade over retaining walls.
Shagpile's soft grey/green stringy foliage provides contrast in the garden, making it an extremely versatile plant for landscape design.
Height | Prostrate–0.15m
Width | 0.5-1m
ACACIA 'MINI COG' PBR
A low growing form of Acacia cognata with light green new growth that matures to a rich emerald green. Mini Cog has a variety of uses and is a great choice for garden areas that require low dense coverage.
Height will vary depending on conditions.
Height | 0.75-1.5m
Width | 1-2.5m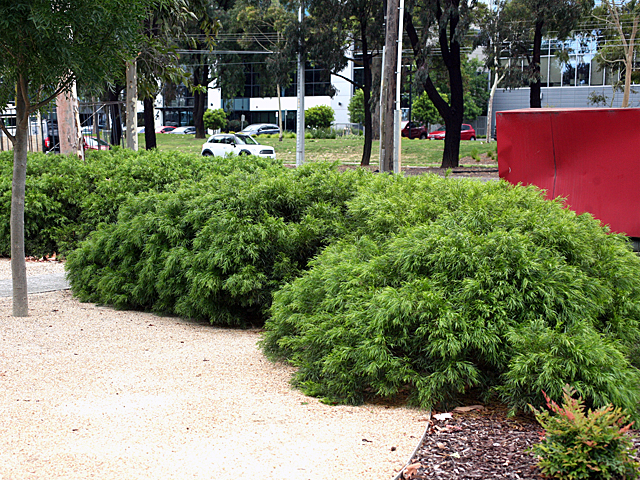 LOMANDRA 'LITTLELIME' LLP002 PBR PENDING
An essentially derived smaller and more compact form of Lomandra Lime Tuff. The foliage is finer than Lime Tuff and stays lush all year round. This plant grows in full sun and shaded areas and is adaptable to most soils.
LittleLime is the perfect choice for low borders and provides contrast throughout a landscape. This newer form of Lomandra is an extremely versatile plant.
LittleLime provides accent colour for gardens and is desirable for use in large landscapes where smaller plants are required.
Height | 0.4-0.5m
Width | 0.5m
WESTRINGIA DEEPPURPLE WG001 PBR PENDING
A selected prolific flowering form of Westringia that produces multiple deep purple flowers that appear terminally throughout the year.
Deeppurple is excellent for use as a garden border, rockery plant, specimen pot plant, or for low level planting for gardens and large-scale landscapes.
Height | 0.5-1m
Width | 0.5-1m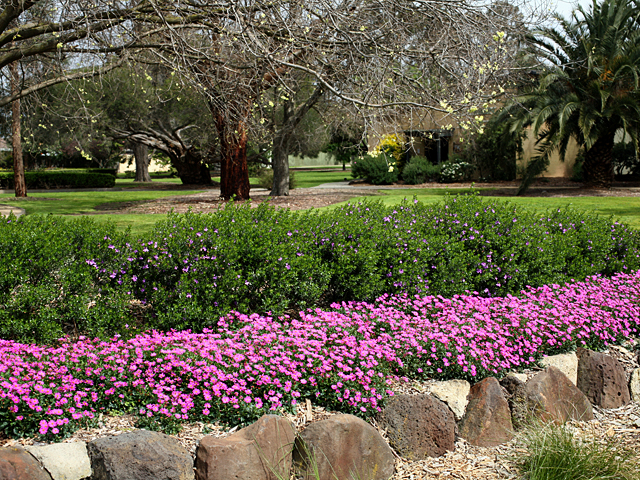 RHAGODIA SPINESCENS SILVER BORDER
Silver Border is a vigorous low growing form of salt bush that is excellent for use in dry areas and under trees. It produces flowers through spring, summer and autumn. Silver Border is an excellent hedging or border plant that is also suitable for rockeries. It will create a thick hedge in the most difficult situations.
Height | 0.5-1m
Width | 0.8-2m
CORREA GLABRA COLIBAN RIVER
This selection of Correa glabra was found near the Coliban River in Kyneton Victoria. The habit of this form is naturally tighter and more compact than other plants of this species. Pale cream lantern-shaped flowers appear in late spring through to autumn.
Coliban River is extremely hardy for areas that require low water and makes an excellent medium screen or even a hedge for a formal style.
Height | 1.5-2m
Width | 1.5-2m
For more information and to see Bush Magik's full range of plants, contact them or visit their website via the links below.
SEARCH
SUBSCRIBE TO ENEWS
MORE NEWS
GROWING TRENDS
MEDITERRANEAN INSPIRATION
CHANGING SEASONS
2020 PERENNIAL PLANT OF THE YEAR
A FEAST FOR MORE THAN THE EYES
MINES MATTER