PENTRIDGE PRISON PARDON
07 Dec 2016
A pardon has been presented to Pentridge Prison, giving the old site a new life sentence as developer Shayher Group reveal plans to transform the historic site into a "vital hub of creativity and commerce".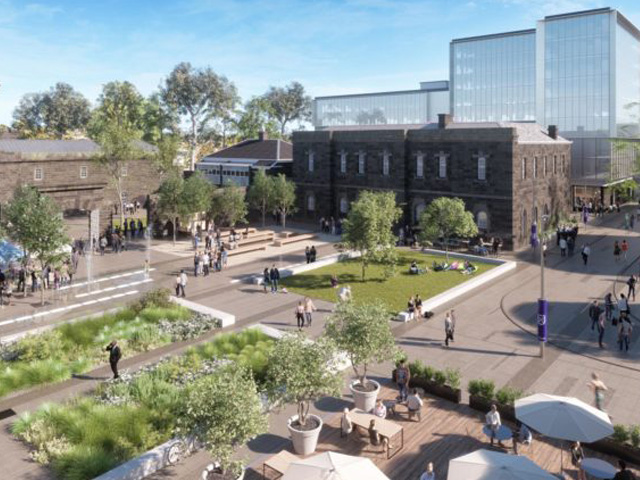 Firmly rooted in Melbourne's history, Pentridge Prison – opened in 1850, closed in 1997 - is a unique site, with both historical and new architecture sitting side-by-side on a solid bluestone foundation. Developer for the site, Shayher Group, has revealed that the centre of the former prison's 6.7 hectare area will be opened to the public as a piazza for markets, community events and performances as well as a retail laneway and dining precinct.
Artist's impression reveal how this extensive area, earmarked for community use, will be brought to life. Much loved heritage elements, including bluestone cell blocks, will be integrated into a modern style and modern uses like restaurants, bars and shops.
As locals enter Pentridge they will be greeted by a proposed open piazza, landscaped gardens that frame walkways, and a selection of alfresco dining options envisaged to be lit by feature hanging lights at night. Plans also include a two-level boutique shopping precinct and a 120-room hotel.
Shayher Group project spokesman Anthony Goh said preserving the site's heritage assets, was the top priority, and that high-quality construction effortlessly integrates the new shopping precinct, community spaces and hotel into the site's existing heritage assets.
"Our experience in combining residential and retail elements in developments will result in a high-quality urban village that adapts to and complements the existing character of the site, Coburg suburb and its people," Mr Goh said.
"We are excited to confirm open spaces, beautifully landscaped gardens and active retail offerings will characterise the piazza, bringing a sense of vibrancy and community to Pentridge, as well as offering a new space for locals to gather for events, picnics, markets and festivals.
"The site's centralised location makes it the perfect spot for an activated centre to complement the vibrancy of Coburg, providing the opportunity to introduce new integrated residential and food and retail offerings into the existing area."
Shayher Group announced in August 2016 that TFE Hotels will operate an Adina Apartment Hotel on the site.
Designed by Cox Architecture, the hotel aims to seamlessly blend contemporary architectural design with the property's distinct and remarkable heritage, including B Division, which will be integrated into the hotel offering.
Meanwhile, Australia's leading boutique cinema group Palace Cinemas was named in September as the first retailer to join the 11,000sqm shopping precinct, which will be adjacent to A Division.
Set to shape Coburg's vibrant, film, arts and hospitality hub, the 15 screen cinema will feature an environmentally sustainable design with a village feel.
In total, the site will include 14 new buildings designed to integrate with the existing heritage, with the heart of the precinct located in the southern part of the site.
"We will continue to work closely with Heritage Victoria to ensure the practical restoration of heritage buildings is in line with their history and is undertaken in a manner that will improve their condition and preserve them for future generations to enjoy," Mr Goh said.
From 2016, Shayher Group will spend approximately $2 million to restore the former jail's seven iconic guard towers as part of several years of heritage restoration works and archaeological surveys.
SEARCH
SUBSCRIBE TO ENEWS
MORE NEWS
CREATING TIMBER ALTERNATIVES
LANEWAYS REVITALISATION PLAN
PARK WARRIOR COURSES ARE SPRINGING UP ACROSS AUSTRALIA!
NATURE-BASED PLAY
SYDNEY'S NATURAL STONE SPECIALISTS
CENTRAL PARK VISION FOR MIDTOWN MACPARK