PAVING THE WAY FOR URBAN DESIGNERS
23 Sep 2015
Established nearly 25 years ago in Queensland, Chelmstone is renowned for its extensive range of premium quality cast paving. Whatever the need, they have the right product to complement your project.
Chelmstone are leaders in the design and manufacturing of detailed commercial pre-cast concrete products. They supply highly engineered, pre-cast tactile paving, seating, bollards, architectural mouldings, pier caps, wall capping and planters for any domestic, commercial or industrial project.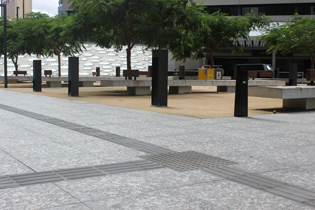 Working in partnership with leading landscape architects, Chelmstone is proud to be a part of some of Australia's most prestigious commercial projects. Whatever the scope or budget, they have the paving range to complement your project and exceed the expectations of you and your client.
Utilising the latest in concrete technology, Chelmstone offer a large range of quality paving and precast concrete products that make them the first choice for paving projects. They value the principles of good design, and pride their selves on the ability to enrich the quality of any space.
Chelmstone works with the existing landscape and design, keeping future generations in mind. And strive to enrich the appearance of public spaces through the use of texture and colour, to create an area that resonates a unique sense of belonging.
Some of the commercial projects Chelmstone has been proud to supply include Noosa Junction, Gold Coast University Hospital and the State Library of Queensland. Chelmstone is also the preferred supplier of cautional and directional tactile pavers (TGSIs) to the Brisbane City Council.
To see the extensive range Chelmstone has to offer call 07 3279 3177 or visit www.chelmstone.com.au
Images (top to bottom): Gold Coast University Hospital; Brisbane Law Courts; State Library of QLD; Noosa Junction.
SEARCH
SUBSCRIBE TO ENEWS
MORE NEWS
CREATING COLOUR AT TUNSTALL SQUARE
THE ANTI-FLOOD PAVING SOLUTION
FOLLOW THE RECYCLED ROAD
THE CAMFIELD PAVES THE WAY
THE ULTIMATE POOL PAVING SOLUTION
SOMETHING NEW, SOMETHING BLUE