CREATING COLOUR AT TUNSTALL SQUARE
13 Jun 2019
The bright and evocative artworks painted by the local community in Tunstall Square carpark were created using MPS Paving's water-based acrylic coating, Rhinotop, which ensures the installations will stay clear and vibrant for years to come.
Located at Tunstall Square on the corner of Tunstall and Doncaster Road in Doncaster East, Victoria, this exciting carpark art project was funded with the assistance of Manningham City Council's Community Grants Program.
Fourteen community groups, schools and local artists participated to complete this project, creating an exciting atmosphere of collaboration and interaction. This project took a dull, average carpark and brought it to life by turning it into a vibrant and emotive outdoor art gallery.
The project was inspired by the Deakin Dream Team – 2017. The team was asked to offer suggestions on how Tunstall could 'calm' the traffic in the carpark and the outcome was achieved by using the carpark as an outdoor art gallery. This project is a first for Australia.
Art is unique in the effect it can have on the surrounding environment, promoting feelings of calmness, creating discussion, and bringing a sense of peace and happiness. Art is typically hidden in closed spaces, however this project allows for the community to enjoy art daily.
One particularly poignant piece was designed by a 7-year-old girl who suffers from autism. Her parents helped her to paint the work. Some additional pieces included a unique installation by a local Indigenous artist who donated it to Tunstall in the name of his son who suffers from a rare disease.
Every piece has a story.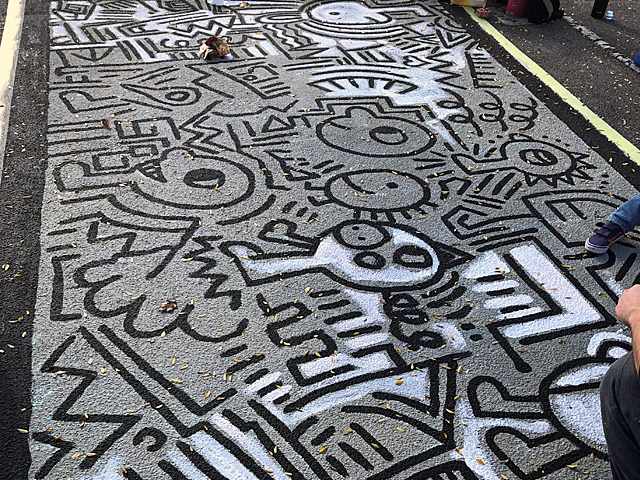 Autism awareness
The artwork for this fantastic project was completed using MPS Paving's Rhinotop, a high quality, water-based acrylic coating. This product incorporates an epoxy additive to increase its abrasion resistance and a special spherical silica sand is suspended in the textured version to provide a fine, uniform, non-skid finish.
Rhinotop provides a durable coloured topping for horizontal concrete and asphalt surfaces. It's satin sheen makes Rhinotop an aesthetically pleasing wall dressing that effectively evens out texture and colour variations on cast concrete substrates. Rhinotop was specifically developed for use over concrete, masonry, stucco, plaster and asphalt. Rhinotop is available in a virtually unlimited range of colours that allow for specific project requirements to be met.
THE ADVANTAGES OF RHINOTOP
Single package, water-based system for ease of application and clean-up
Bonds tenaciously to concrete, masonry and asphalt surfaces
Resists ultraviolet degradation for long-term protection and colour stability
Provides durable, non-skid texture on interior or exterior surfaces
Resists wear and abrasion through the incorporation of an epoxy additive
Protects against asphalt degradation by sealing in the vital oils of the asphalt mix
Helps prevent dusting and spalling of concrete surfaces
Surfaces resist penetration from general soils, motor oils and gasoline for ease in cleaning
No toxic fumes or objectionable odour; meets all VOC requirements
To find out more about Rhinotop and all of MPS Paving's products and services, call 03 9707 0077 or get in touch via the links below.
SEARCH
SUBSCRIBE TO ENEWS
MORE NEWS
THE ANTI-FLOOD PAVING SOLUTION
SOMETHING NEW, SOMETHING BLUE
THE ULTIMATE POOL PAVING SOLUTION
FOLLOW THE RECYCLED ROAD
SCHOOL GETS WATER-FRIENDLY MAKEOVER
THE CAMFIELD PAVES THE WAY