PARK ON THE GRASS
27 May 2015
The teaching staff and students at Macquarie University are on the grass everyday - literally. Find out why here.
Three years after its installation, the GrassProtecta® grass reinforcement mesh continues to enable over 100 cars to park on a grassed overflow car park situated on the Sydney campus of Macquarie University.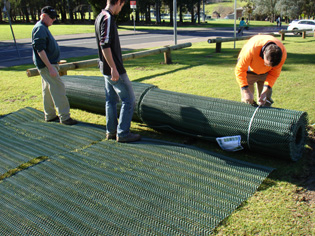 GrassProtecta® is a heavy duty, thick, slip-resistant polyethylene mesh. Within a short period of installation, the grass thatch grows through the GrassProtecta® mesh, so that it "disappears" into the lawn. The grass reinforcement mesh allows the grass sward to intertwine with the plastic mesh filaments creating a strong, discreetly reinforced natural grass surface capable of withstanding vehicle loads, limiting damage and reducing soil compaction.
GrassProtecta® continues to reinforce and protect grassed surfaces prone to wear, rutting and smearing which would otherwise result in a muddy surface incapable of withstanding vehicular or pedestrian applications.
Developed in Europe, for use in Source Control applications as part of Sustainable Urban Drainage System (SUDS), GrassProtecta® grass reinforcement mesh is the perfect alternative to impermeable paved surfaces where natural grassed traffic routes and driveways are preferred, where planning restrictions are applied or cost is an issue.
The GrassProtecta® reinforcement mesh has been developed with an oscillated mesh structure which is designed to increase traction and improve slip resistance by up to 97% compared to standard straight oriented meshes.
The installation is fast and cost effective, especially when compared to plastic paving grids and requires no excavation or soil removal.
Contact Tapex today to find out more about GrassProtecta® or any of our other suite of grass and ground reinforcement products.
SEARCH
SUBSCRIBE TO ENEWS
MORE NEWS
HIGH-QUALITY PLANT STOCK
WHEELCHAIR ACCESSIBLE STREET FURNITURE
MULTI-DIMENSIONAL DESIGN
BRINGING TOGETHER THE BEST IN LOCAL DESIGN
WORLD-LEADING SOLAR STREET LIGHTING
PROLUDIC JOINS AILA