NOVEL STACKED BOX HIGH RISE
24 Jun 2015
A visionary new design for a stacked box high rise featuring horizontal and vertical boxes aims to change the 'generic' look of skylines.
Aiming to change the 'generic' look of Vancouver's current skyline, architectural firm Büro Ole Scheeren has proposed a new and novel form of a mixed-use high rise that features a 'stacked' series of extruding horizontal and vertical boxes.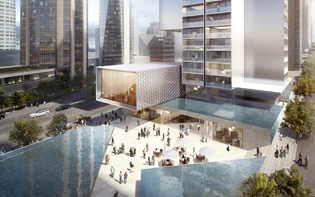 With the ability to create large terraced areas and larger horizontal spaces, unusual in most high rises, this unique building will provide surrounding views that are not so easily achieved with standard high rise design.
Located at 1500 West Georgia in Vancouver, Canada, the proposed new high rise will house a public plaza and retail space on the lower levels, with over 46 floors of residential space.
Architect Ole Scheeren states, "Vancouver possesses a unique balance of urban conditions surrounded by spectacular nature that provides fertile ground for envisioning new possibilities for future living in a cosmopolitan and environmentally-friendly city."
"The design for this building exemplifies our ambition to reconnect architecture with the natural and civic environment and go beyond the hermetic confines of towers that increasingly inscribe our lives."
If the project goes ahead, Büro Ole Scheeren will seek LEED Platinum approval (a green building certification), and claim "sustainable technologies" will provide all the required energy for ground-level public amenities.
The proposed new high rise was commissioned by developers Bosa Properties who have taken the necessary first steps for planning permission for this visionary new design.
SEARCH
SUBSCRIBE TO ENEWS
MORE NEWS
HEALTH INFRASTRUCTURE DELIVERY CHANGES
VISITOR HUB AND LIBRARY FOR PRAHRAN SQUARE
A CLEANER MESH SOLUTION FROM RICKY RICHARDS
2020 AUSTRALIAN INSTITUTE OF HORTICULTURE AWARDS
QUALITY SURFACES FROM MPS PAVING
GYRO MULTIDIRECTIONAL SWING FROM ADVENTURE+