MUSICAL CHAIRS
14 Nov 2017
A unique art installation cum street furniture project gracing the front of the Denver Art Museum consists of a block of connected urban furniture that encourages face-to-face interaction – and plays music!
La Musidora® is a colorful and interactive 90-foot-long (27.5m) installation designed by Hector Esrawe and Ignacio Cadena from ESRAWE + CADENA studio, which seeks to continue the successful path of its predecessor pieces: Mi Casa Your Casa® and Los Trompos®. The project has been commissioned by the Denver Art Museum and sits on the esplanade opposite the museum.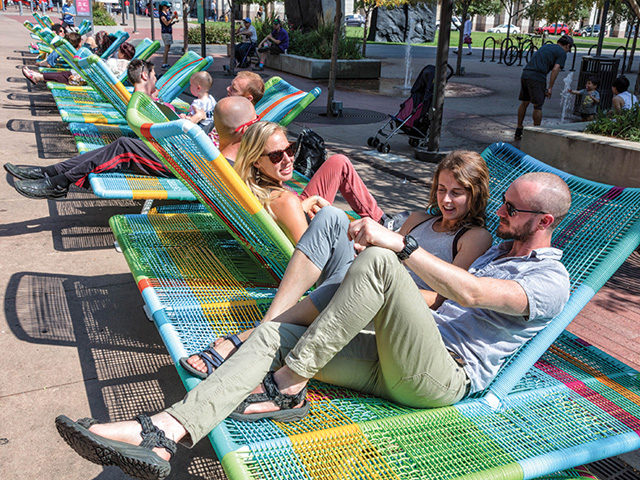 The initial inspiration that detonates the conceptual development of the installation is a public piece of urban furniture located in Merida, Mexico — the Chair Tú y Yo or Confidente. This object is made up of two chairs encountered face to face and designed for a couple to look at each other and talk.
Subsequently and as a second design axis, Mexican based ESRAWE + CADENA studio's intention is to have a dynamic woven piece that explores the idea of swinging, with two clear objectives. First, relaxation. Second, the possibility of an encounter between two people through movement who dialogue to establish a rhythm in common agreement. The third conceptual axis is sound.
The almost 30m linear piece is a metaphor for a great marimba or xylophone. Each of the modules formed by pairs is equipped with a percussion mechanism that activates a system of bells that, when rocking, generates musical notes that go from high to low following the longitudinal direction of the installation.
The 20 people who are able to experience the piece at the same time can produce sounds in their individuality. Sequentially, they belong to a collective melody that reminds us that we are authentic beings that express in an individual way, but also that belong to a diverse social system that moves in a communal system, all in order to activate a common consciousness that makes us participate in something far greater.
SEARCH
SUBSCRIBE TO ENEWS
MORE NEWS
ALUMINIUM RESTROOMS: WORTH THEIR SALT
PUBLIC 'HANG OUT' A LEVEL UP
STREET FURNITURE TRANSFORMS PUBLIC SQUARE
LOOKS CAN BE DECEIVING
RING AROUND THE BENCHES
PRINT YOUR CITY