MAWSONS PEBBLES ROCK
05 Mar 2014
Colour, texture, variety, distinctiveness - four little words that sum up what Mawsons River Pebbles can add to your landscape project.
Mawsons River Pebbles are not only beautiful, but versatile too. They're perfect for garden mulching, weed suppressants, pool scaping, dry creek beds, polished concrete floor features and all manner of decorative stone work.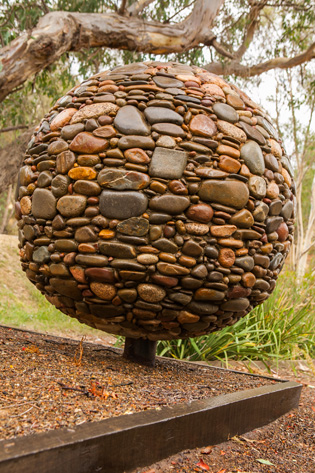 Mawsons River Pebbles are available in 7mm, 20-50mm and 50-100mm sizes making them perfect for any landscaping project – large or small. From our range of Australian river pebble quarries in Eastern Victoria, we can provide the industry professional or the home gardener with colours ranging from white and grey through to ruddy and chocolaty tones.
Mawsons River Pebbles are not only for outdoor use. They make a stunning feature as part of polished concrete flooring, giving the discerning decorator a unique and distinctive home décor element, in tones to suit any taste.
Mawsons River Pebbles look terrific in exposed aggregate mixes thanks to the variety of colours available. Keep your poolside, path or driveway ageless with textured aggregates from Mawsons.
Mawsons River Pebbles are essential to any great landscape design – be it in the form of mulch and weed suppressants to outstanding focal pieces like dry creek beds, decorative concrete borders, sculptural creations and water features. Creations are limited only by imagination.
Enhance every design project with Mawsons River Pebbles.
SEARCH
SUBSCRIBE TO ENEWS
MORE NEWS
BEVERLY HILLS BRINGS BOTANICS SKY HIGH
TRANSFORMING WATERLOO AND ALEXANDRIA
THE UNIQUE TOUCH ADDED THROUGH THE VIENNA FURNITURE SUITE
DIY SOFTWARE: SIZE UP YOUR OWN DRAIN
PARKS & LEISURE AUSTRALIA CONFERENCE RESCHEDULED
RAISING THE GAME