LANDSCAPE EXPO PERTH A SUCCESS
04 Jun 2012
The recent Landscape Expo in Perth was a huge success, with more than 60 exhibitors showing off their latest and greatest products and services.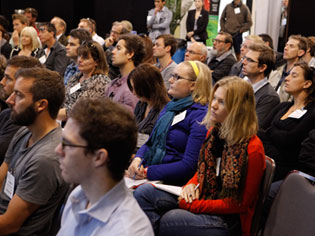 The Landscape Australia Expo Perth was held on May 24 and 25 at the Claremont Showgrounds.
It was a fantastic expo with a great range of over 60 exhibitors showing off their latest and greatest in products and services to a wide range of landscape industry professionals. There was a great atmosphere around the hall as the visitors found some new and exciting ideas to help them with their current or future projects.
New features in Perth included the Landscape Designers Breakfast (sponsored by Proludic) which followed on from the successful Melbourne event. The Designers and Architects of Perth didn't disappoint with over 100 attending to see speakers Josh Byrne, Janine Mendel and Shelley Shepherd. Our entire seminar programme was also well attended with some great insights being given to all in attendance.
A lot of this event was made possible with the help from our media partners Outdoor Design Source and our supporting associations including LIAWA, NGIWA, AIH, WALDA and Irrigation Australia.
The Landscape Australia Expo will now move to Sydney on September 13 and 14 at the Royal Hall of Industries, Fox Studios. Our FREE Registration is already open on our website for this event and keep an eye out for information on seminars and features that we'll be holding.
Contact:
Jenny Ramazan
Landscape Australia Expo
Ph: 02 9556 7993
Email: jramazan@etf.com.au
Visit: www.landscapeexpo.com.au
SEARCH
SUBSCRIBE TO ENEWS
MORE NEWS
MULTI-DIMENSIONAL DESIGN
HIGH-QUALITY PLANT STOCK
WORLD-LEADING SOLAR STREET LIGHTING
BRINGING TOGETHER THE BEST IN LOCAL DESIGN
WHEELCHAIR ACCESSIBLE STREET FURNITURE
PROLUDIC JOINS AILA