KINGSCLIFF'S CROWNING GLORY
08 Nov 2018
A $21.2 million seaside park project has recently been completed in the town of Kingscliff on Sydney's coast, which includes an array of stunning, ocean-themed shelters from Landmark that provide much-needed cover in the newly developed public space.
The northern NSW town of Kingscliff balances its identity perfectly between seaside village and top tourist destination. The recently completed seaside park project gives locals and tourists alike easier and safer access to the beach.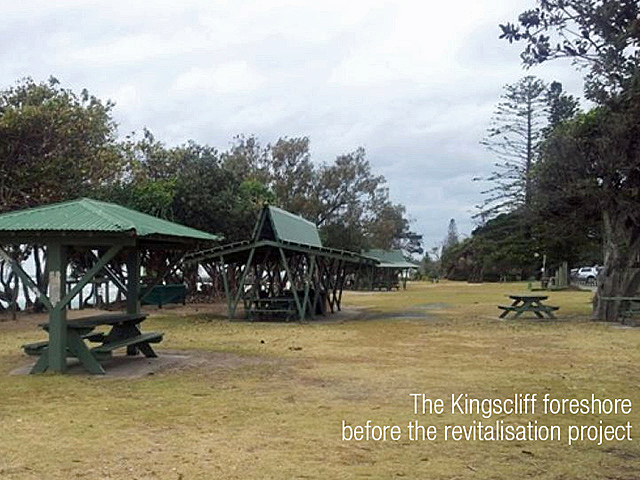 Nine Landmark skillion roof shelters were strategically placed throughout the revitalised foreshore, complementing the broad grassed areas, palm trees, concrete sculptures and providing visitors stunning views of the ocean. Each shelter covers either picnic settings or park barbecues.
In fitting with the park's artistic direction, each of the Landmark shelters includes ocean-themed panels, some horizontal and some vertical, illustrated with various marine animals.
Constructed from timber, Landmark's Peninsula shelters, provide the perfect solution for the seaside, which produces a high level of salt, with all fixtures being crafted from stainless steel, except for the roof screws that are hot-dip galvanised. The inground steel leg brackets are Plascoated (silver) and the roof sheeting is Ultra grade Colourbond for extra protection.
Each shelter was delivered onsite in kit-form, complete with engineers' certificates, building application drawings and instructions that made installation a breeze.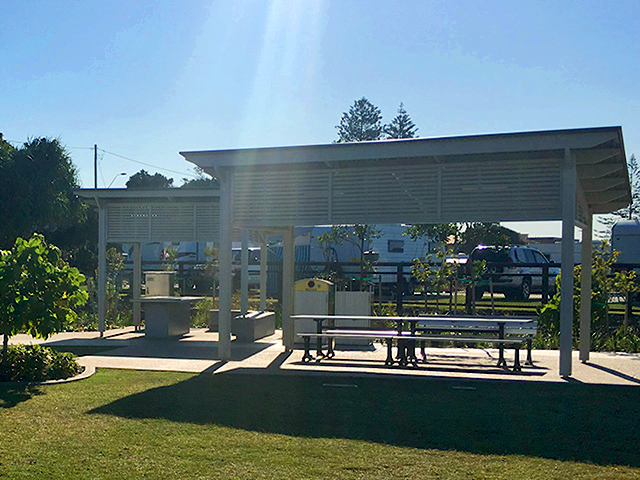 Troy Green, Tweed Head Council's General Manager, said, "This [is] one of the largest civil construction multi-part projects Council has undertaken. It is essentially three projects in one: foreshore protection, holiday park redevelopment and creation of the central park, including modifications to the community hall.
"The creation of the Central Park will open up Marine Parade to the beach, allowing access for everyone and better views, and the redevelopment of the Kingscliff Beach Holiday Park will ensure sustainable economic growth and employment in the town by providing increased quality short-stay accommodation."
SEARCH
SUBSCRIBE TO ENEWS
MORE NEWS
NEW NORFOLK GETS NEW LOOK
NEXT-LEVEL OUTDOOR FURNITURE
ROSEVILLE STATION GETS NEW LOOK
WHEELCHAIR ACCESSIBLE STREET FURNITURE
URBAN+ X O FOUNTAIN PARTNERSHIP
'PENINSULA SERIES' PARK SHELTERS