INTRODUCING ROLL&COMB
28 Oct 2021
Keep landscape artificial grass looking like new with the Garland range of Roll&Comb artificial grass cleaning and grooming machines.
Exclusively distributed by Grass to Go across Australia and New Zealand, the patented selection of artificial grass cleaning devices is designed to suit different sized areas. Roll&Combs are best deployed as a maintenance 'go to' from the initial installation rather like a lawnmower is to natural turf!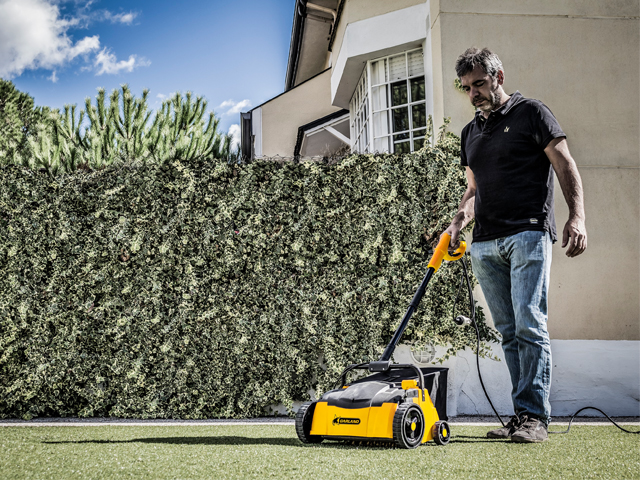 Utilising a European patented brushing mechanism that has been designed specifically to groom synthetic turf fibres the Roll&Comb range are all fitted with easy handling features for operators including an oscillating 360 degree control arm on the 302E-AU and debris catchers (302E-AU & 502E-AU) as well as easily accessible controls and switches. For large areas the petrol driven 602QG features a 4-stroke 212cc engine and a good sized 45L collection bag. All four-wheel units incorporate adjustable comb operating height to vary the intensity of the combing process, which is also well suited to accommodating different grass pile heights.
The larger models can also be used to remove in-fill for surface rejuvenation if required and depending on the age and the condition of the synthetic grass to lift and reinvigorate the pile.
Roll&Comb, easy to operate and the perfect way to ensure that artificial grass looks as it should for as long as possible! See the range and find out more at www.grasstogo.com.au/roll-and-comb
To find out more about Grass to Go click on the links below.
SEARCH
SUBSCRIBE TO ENEWS
MORE NEWS
WHY PROFESSIONALS ARE MAKING THE SWITCH TO HUSQVARNA AUTOMOWER®
TRANSFORM A HOME IN THREE SIMPLE STEPS
HUSQVARNA AUTOMOWER®
THE SMART WAY TO MOW
THE RIGHT SYNTHETIC TURF TO TAKE BACKYARDS TO THE NEXT LEVEL
LAWN SOLUTIONS AUSTRALIA TURF CERTIFICATION PROGRAM