HYPERLOOP ONE'S FULL-SCALE TEST TUNNEL
03 Apr 2017
Great leaps and bounds are being made by Hyperloop One as they construct their test system in the Nevada desert. This transport technology looks set to take off with a bang!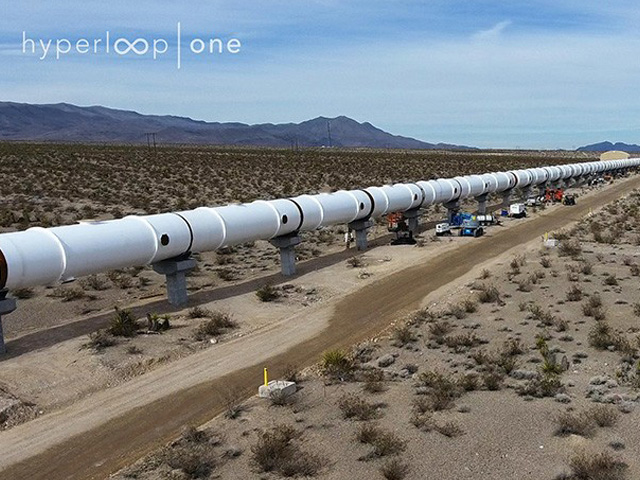 Hyperloop One has released the first images of the test track for the futuristic transport system. The test site is currently under construction 30 minutes from Las Vegas in the Nevada desert, USA.
Hyperloop One CEO Rob Lloyd shared images of the construction at the company's 11th annual conference. The images and the conference demonstrate how serious the company is proving to be about the development of this transport system, and the project seems to be well underway to delivering the world's first working hyperloop.
The test site, known as 'DevLoop,' is a 500-meter, full-scale hyperloop tunnel, and the first functional hyperloop system to ever be built. The test track has a diameter of 3.3 meters.
As a new method of high-speed transport, the hyperloop would propel a pod-like vehicle through a vacuum tunnel at a speed greater than an airplane. The system aims to help users transit between large distances with on-demand autonomous transport.
As a company, Hyperloop One have expressed the desire to use the system to better connect the Middle East region, creating a United Arab Emirates 'pan-urban' area with a 30-minute hyperloop journey between Abu Dhabi, Dubai and Al Ain. If successful the hyperloop system could then make its way across the globe to connect other regions domestically and internationally.
Josh Giegel, president of engineering and co-founder of Hyperloop One elaborates on the project, stating 'I am so excited to be able to share images of DevLoop at Middle East rail and update the world on our progress. Our team of more than 150 engineers, technicians and fabricators have been transforming what was, just over five months ago, a barren stretch of desert, into a hive of activity and now home to the world's first full-scale hyperloop test site.'
It is reported that the team of over 240 employees are 'working tirelessly' to eliminate the barriers of distance and time and reinvent transportation. The newly released images again demonstrate the company's rapid progress in developing the new system and making Hyperloop transportation a feasible reality.
Once testing is completed in the Nevada desert site the company is expected to perform a public trial in the first half of 2017 much to the interest of the world at large. Watch the Hyperloop One video below for more information on the design concept.
SEARCH
SUBSCRIBE TO ENEWS
MORE NEWS
MUSEUM TO FLOW LIKE A RIVER
PARK WARRIOR COURSES FROM A_SPACE
'CHRISTMAS TREES' FOR LONDON
NEW CULTURAL PRECINCT FOR COFFS HARBOUR
GREENERY COVERED TIMBER BUILDINGS
STREET FURNITURE AUSTRALIA BRINGS PEOPLE TOGETHER