GREAT GATES
18 Feb 2015
Don't let an ugly security or front gate spoil the look of your property. Transform your outdoor space with a strong, secure and designer metal screen.
It's easy to see why metal screens are a popular addition in today's outdoor spaces. They're easy to install, long lasting, competitively priced and have the unique ability to blend or enhance any area.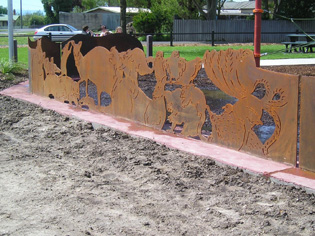 Metal screens have traditionally been used to enhance fences, as backdrops in pool areas and as freestanding design features in gardens. Today, thanks to their strength and their ability to be manufactured to any size with almost any design, more people are transforming their front gates plus security gates and doors by using metal screens.
The team at Innovative Metal Products (IMP) have over 30 years' laser cutting experience. CEO Bruce Thomas explains: "We're seeing more builders and architects ask us to manufacture commercial and domestic gates, including security doors, for their projects".
Metal screens, as gates, will be exposed to Australia's harsh elements. Innovative Metal Product's Australian-made laser cut metal screens have a long life span. "If finished and installed correctly, they shouldn't require painting or maintenance for their life" says Bruce.
Colour options are diverse. Powder coating in almost any colour adds wow with bold colour, tranquillity with a serene colour or finished with a colour that complements the existing palette.
"The rusty look of Corten remains one of the most popular finishes," explains Bruce. "The rust effect effortlessly blends with a range of surrounds, is durable and low maintenance."
Architects and interior designers love how metal gates and doors can be backlit for a stunning night-time transformation.
IMP can incorporate a range of designs onto your screens, gates or doors including geometric shapes, abstract shapes, and city scapes. Your own design or image can effortlessly be incorporated to create a truly unique piece. Just ask us.
Innovative Metal Products
Ph: 03 8710 4188
SEARCH
SUBSCRIBE TO ENEWS
MORE NEWS
PLAY WITH AUSTRALIAN IRONBARK
RUBBERWORX SAFELY DELIVER SOFTFALL INSTALLATIONS
GLOBAL ROAD MAINTENANCE SYSTEMS PUTS SAFETY FIRST
MAKE PLANT SUPPLY EASY WITH PLANTMARK
LOW MAINTENANCE GROUNDCOVERS FROM OZBREED
TRANSFORM YOUR SPACE WITH KLS SANDSTONE