GRAHAM ROSS ANNOUNCED AS PATRON
25 Feb 2015
Graham Ross has been announced as patron of the new Garden Centres NSW and ACT group.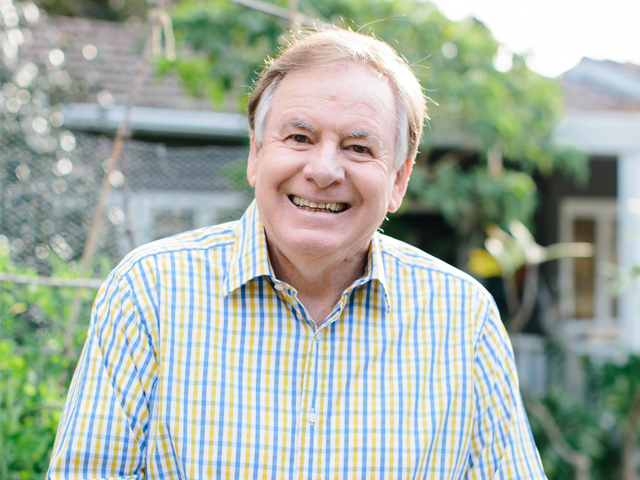 The Nursery and Garden Industry in NSW and ACT is pleased to announce Graham Ross as patron of the new Garden Centres NSW and ACT group (GCNA).
Graham Ross has educated, entertained and inspired Australia's gardening community and aspiring green thumbs during a career that has spanned more than 50 years, and which started in a garden centre where he developed his great passion for horticulture.
Graham has shared his passion for all things green and growing since he joined the multi-award winning Better Homes and Gardens television program when it was launched on the Seven Network in 1995.
Graham combines his television schedule with a highly successful radio career. He, his wife Sandra, and daughter Linda, present a three-hour gardening program every Saturday and Sunday morning for Radio 2GB. The show is now broadcasting in its record 35th year, making it one of the longest running and highest rating programs in Australian radio history. His seasonal gardening tips can also be heard on 60 radio stations across Australia.
Broadcasting commitments aside, Graham and Sandra share an exhaustive schedule that incorporates as many as 25 garden tours a year in Australia and overseas and running the family business, The Garden Clinic. This venture includes publishing a 100-page glossy magazine for Garden Clinic club members.
To launch this fantastic partnership a dinner event is planned at the Dural Country Club on March 19 starting at 6pm with a joint meeting of the Growers and Suppliers and the Garden Centres NSW and ACT group. The meeting will be open to non-members of these groups who are NGINA members to get a taste of what the special interest groups do.
The Growers and Suppliers are sponsoring one person from each company who registers a free meal as an incentive to come along and hear Graham's insights into the industry. There will also be up-to-date information on issues affecting the industry from NGINA President Doug Shelton, as well as a 'have your say' at an open microphone session.
By attending you could win one of two lucky door prizes, thanks to Brunnings and All Stake Supply. All Stake Supply have donated a $250 gift voucher to be spent at All Stake Supply, plus a carton of beer; while Brunnings/Gardman will offer half a dozen bottles of assorted wine as a prize.
Limited places are available so register now: www.ngina.com.au/whatson
SEARCH
SUBSCRIBE TO ENEWS
MORE NEWS
PLANTING ON A SLOPE
FLEMING'S LANDSCAPES TAKES ON THE YARRA VALLEY
TREES FOR A FRESH POINT OF DIFFERENCE
FLEMING'S ASPIRE TO GREAT HEIGHTS
GARDENIAS BLOOM AT PARADISE PLANTS
ENTER THE MATRIX OF 3D PLANT GRAPHICS