FLOWER POWER
16 Jul 2014
Inspired by the lotus flower, a new cultural landmark in China serves as a symbolic commitment of the local government's aspirations.
Inspired by the lotus flower, this cultural landmark in Wujin, China represents the three stages of flower development from young bud to mature bloom.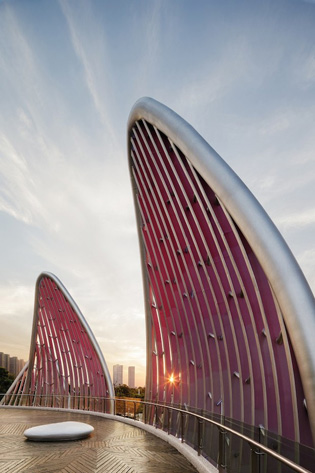 Rising out of an artificial lake with an accompanying 3.5 hectare People's Park, the Lotus Building is an addition to an existing double-storey municipal facility, and serves as a symbolic commitment of the local government's ambitions and aspirations.
Designed by Melbourne Studio505, the Lotus Building is wrapped in a series of metal ribbed petals. The interior and exterior are covered in hand laid mosaic tiles that create a smooth gradient of colour from white and beige to deep pink, creating a deep hue at the edge of the structure. A 7 metre chandelier suspends at the centre of the building resembling the flower's stigma.
Designed for energy efficiency, the building is cooled using 2500 geothermal piles installed through the base of the artificial lake. The centre uses evaporative cooling from the lake surface to operate a thermal chimney for natural ventilation within the main flower pod.
At night, a light show transforms the Lotus Building into a major art attraction, devised to hold a series of transitioning natural colour combinations.
The Lotus Centre and People's Park has become one of the most popular landmarks in Wujin with a sustained contribution to the social and cultural life of the city.
SEARCH
SUBSCRIBE TO ENEWS
MORE NEWS
MARBLE ARCH HILL
WASTE NOT WANT NOT
UN-HABITAT'S URBAN RESPONSE
OUTDOOR LEARNING MADE COMFORTABLE
BENEFITS OF TRAVERTINE PAVERS
SAFETY SURFACING MADE EXCITING