FIGHT ROADSIDE POLLUTION WITH PLANTS
22 Apr 2021
An affordable and effective solution for improving air quality in traffic dense cities, Ozbreed has revealed what plants are most efficient in trapping vehicle emissions.
Better John™ Callistemon close-up hairy leaves
Roadside pollution consists of vehicle exhaust (particulate matter plus harmful gases), dust and other small particles from tyres, brakes etc. The use of roadside plantings to improve air quality is not a new idea, but there's increasing evidence that some plants are better at it than others. Early findings have indicated that hedges are more effective than trees.
Researchers at the Royal Horticultural Society have now tested different leaf structures as well as growth habits to determine which are most the effective. Data was captured during 2016 and 2019 using seven different plant species across multiple urban locations. They then analysed the level of particulates trapped on the leaf surface and the heavy metals absorbed into the leaves.
Blue Horizon™ Eremophila
The results? Plants with dense foliage and rough or hairy foliage were the most effective especially in areas with the heaviest levels of pollution. The standout winner was Cotoneaster franchetii which was shown to be 20 percent more efficient at trapping vehicle emissions than other plants in the study. Quite an astounding difference simply due to having hairy leaves and dense foliage.
Now in Australia Cotoneaster franchetii is probably not the best thing to mass plant thanks to its high berry count and weed status in some regions. However, the following plants from the Ozbreed range exhibit the same traits of dense foliage combined with hairy and/or relatively rough leaves making them excellent choices for roadside plantings:
'Blue Horizon' Eremophila
Blue Horizon™ Eremophila close-up rough leaves
Stunning groundcover with grey foliage and yellow flowers in winter. Grows 25cm high and 1m wide. Handles full sun and is drought tolerant once established. Best for the drier southern half of the country.
'Better John' Callistemon
Better John™ Callistemon
Attractive shrub reaching 1.2m high and 90cm wide with masses of red bottlebrush flowers in spring and softy silvery new foliage. Grows well nationwide except in the wet tropics. Drought and cold hardy.
'Blue Gem' Westringia
Blue Gem™ Westringia
Bears masses of vivid blueish-purple flowers in spring that outshine regular westringia flowers. Will also flower reliably at other times of the year. Grows 1.5m high and 1.3m wide and will thrive in tough locations provided it has good drainage.
'Yalba' Imperata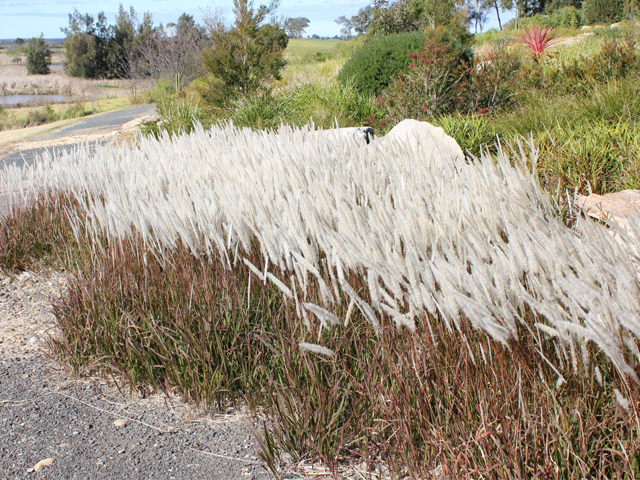 Yalba™ Imperata
Beautiful dense growing grass with reddish foliage in winter and stunning white plumes lasting from April to August. Idea for mass planting as it spreads readily to outcompete weeds but does need to be contained by a concrete border. Grows 40cm high and 1m wide. Tolerates frost, drought and humidity so very versatile. Slash once a year in late summer to achieve maximum floral impact.
Ozbreed also recommend its Lomandras and Dianellas, which have relatively rough upright foliage to also capture particulate matter. Ozbreed predict these pollutants will be washed into the centre of the plant when it rains and be captured in the soil, however further research is required to confirm this idea.
Little Jess™ Dianella
Click on the links below to view Ozbreed's full range of no fuss, functional and reliable landscape plants.
SEARCH
SUBSCRIBE TO ENEWS
MORE NEWS
HIGH-QUALITY PLANT STOCK
STANDOUT TREES FOR A WARMER SOUTHERN AUSTRALIAN CLIMATE
WORLD FIRST DOUBLE LAVISH LAVENDERS
PERFECT FOR URBAN PLANTING
EXCITING NEW PLANT RELEASES FROM OZBREED
TREES FOR SPRING BLOOM