ELECTRIC BOULEVARD
16 Apr 2014
An 'electric boulevard' and one of London's largest roof gardens is planned for Battersea power station.
Gehry Partners and Foster + Partners have revealed designs for phase three of the vast redevelopment of London's Battersea power station site. Configured to complement the famous brick power station, the mixed-use scheme is positioned to the south of the existing structure.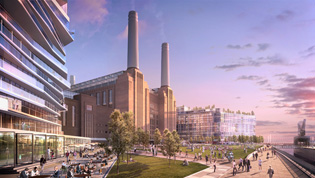 The project will feature a high street, coined 'the electric boulevard' that will serve as a gateway, connecting the northern line underground extension station with the 42-acre site. over 1,3000 residential units, a 160-room hotel, and 350,000 square feet of retail and dining space is articulated around the pedestrianised avenue, ensuring a vibrant streetscape.
Gehry Partners has designed the five buildings to the east of the boulevard housing double-height retail units at street level, centred around the distinctive 'flower' building. This area also includes approximately half of the planned residential units, a public park and multi-use community hub.
Foster + Partners has designed the building to the west of the electric boulevard, known as 'the skyline'. The structure undulates along the line of the boulevard, creating a distinctive profile. Two floors of retail units will front on to the western side, while breaks in the façade allow light into the public spaces below. The top of the building is given over to one of London's largest roof gardens, offering expansive views of the power station and the city beyond. The 'skyline' houses the other half of the planned residential units, including a range of affordable housing, alongside a medical centre and the on-site hotel.
"Our goal from the start has been to create a neighbourhood that connects into the historic fabric of the city of London, but one that has its own identity and integrity. We have tried to create humanistic environments that feel good to live in and visit," explained Frank Gehry.
Grant Brooker, Design Director and Senior Partner at Foster + Partners, commented: "We moved our own office to Wandsworth almost 25 years ago – the borough is very important to us, so we were absolutely delighted to be chosen by the shareholders of Battersea power station to be part of this inspiring regeneration project. It will transform the area and create a vibrant new district for south London that we can all be proud of."
The Battersea power station master plan, designed by Rafael Vinoly, comprises over 3,400 homes as well as offices, shops, restaurants, bars, cafes, hotels, community and leisure facilities and 18 acres of open space. Work began on phase one of the development in July 2013, while work on the restoration of the grade II listed power station itself is set to start shortly.
SEARCH
SUBSCRIBE TO ENEWS
MORE NEWS
2020 INT. GARDEN FESTIVAL WINNER
FIND THE 'RIGHT' TREE WITH SPECIALITY TREES
PLA NATIONAL CONFERENCE GOES VIRTUAL
CREATE A DROUGHT-TOLERANT NATIVE GARDEN WITH TALL TREES
CITY OF PARRAMATTA SETS BLUEPRINT FOR 'SMARTER' SUBURBS
MAKING WAY FOR PEDESTRIANS IN MELBOURNE