CUSTOM SEATING BY THE SEA
03 Feb 2016
Tamarama Beach took on a new perspective with the installation of a range of custom concrete and stainless steel seating from Stoddart Town & Park.
Stoddart Town & Park specialise in the design and production of a suite of attractive, robust and functional street furniture in Australia. Street furniture designed with people in mind.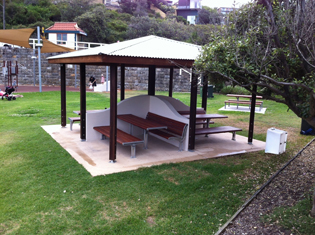 Town and Park were engaged by Waverley Council to supply and install custom seating along the oceanfront at Tamarama Beach on Sydney's eastern shore. The project consisted of thirty 2m long pre-cast concrete units, which were topped by FSC hardwood timber benches and seats with 316 electroplated stainless steel armrests.
The result is a sweeping arc of attractive and useful custom seating, which sits perfectly within its beachfront location. These new seats are in addition to previous projects undertaken by Stoddart Town & Park at Tamarama Beach, including an array of shelters and recreation areas.
With full capabilities for industrial design and engineering, product development is at the forefront of Town & Park's designs for street furniture, park shelters, picnic shelters, park benches, park barbeques, park tables, picnic settings, benches, seats, drinking fountains, bins, bin enclosures and ashtrays, bike racks, bike furniture, outdoor showers, and other urban infrastructure.
Town & Park designs and manufactures its products within Australia, making them well equipped to deliver on custom street furniture products and projects for any urban landscape in Australia with short lead times.
With over 415 employees and more than 50 years of stainless steel fabrication and metal fabrication industry experience, Stoddart and Town & Park are the right choice for the supply of quality street furniture in Australia.
For more information contact Stoddart Town & Park on 1300 782 101 or email info@townandpark.com.au
SEARCH
SUBSCRIBE TO ENEWS
MORE NEWS
'FREMANTLE SERIES' ALUMINIUM RESTROOM
INTRODUCING LINEA
OUTDOOR LEARNING MADE COMFORTABLE
STREET FURNITURE WITH A VIEW
LOW-MAINTENANCE SEATING
HIGH-QUALITY HARDWOOD DECKING