COASTAL STYLE FOR BURNETT HEADS
08 Nov 2018
After more than five years of planning and community consultation, the new Burnett Heads town centre streetscape has been completed, featuring a stylish outdoor furniture suite from Unisite Group that complements the coastal theme of the space.
Burnett Heads has recently undergone a major transformation, with the upgrade of its main street that has brought life to the sleepy seaside village and been a catalyst to further development within the area. The major contractor for this development, Devcon, commissioned furnishings from Unisite Group to complete the area.
Atessa seats with timber slats were installed, perfectly complementing the heavy wooden bollards that are used throughout the streetscape.
Atessa bins were installed to match the seats, however, instead of using timber, they were finished with TimberImage, which utilises aluminium slats that are infused with a timber look through a process called sublimation. The end result is a product that has the attractive style of timber, but with the strength, durability and low maintenance capabilities of aluminium.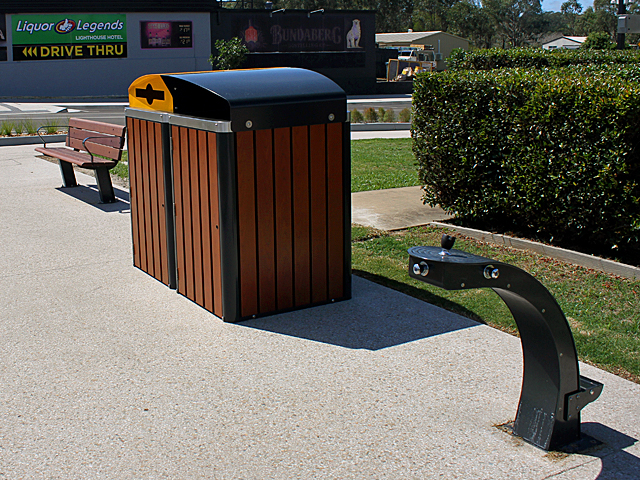 In addition to the key bin and seat pieces that are fixed throughout the streetscape, several complimentary items were also installed, including Reviva drinking fountains, which include the bottle refill and dog bowl options, stainless steel bike hoops, and removable bollards.
Visit Unisite's website for more information on their range of street furniture.
To see this project in action, take a look at the video below.
Burnett Heads Streetscape from Daniel Walshaw on Vimeo.
SEARCH
SUBSCRIBE TO ENEWS
MORE NEWS
URBAN+ LAUNCHES NEW ECO-FRIENDLY BOTTLE REFILL STATIONS
NGV'S PICTURESQUE PICNIC PAVILIONS
THE FUTURE BUS STOP
THE UNIQUE TOUCH ADDED THROUGH THE VIENNA FURNITURE SUITE
VOICE CONTROLLED PUBLIC RESTROOM
WHEELCHAIR ACCESSIBLE STREET FURNITURE