CHANGING PLACES A LANDMARK PROJECT
02 Feb 2017
As part of a $3.4 million redevelopment of public space, Landmark Products were engaged by the City of Cockburn to build a Changing Places restroom facility at Bibra Lake Public Park.
"Changing Places is a voluntary international project that advocates for public toilets with adult-sized change tables and automated hoists in major public spaces, to meet the needs of people with severe and profound disabilities".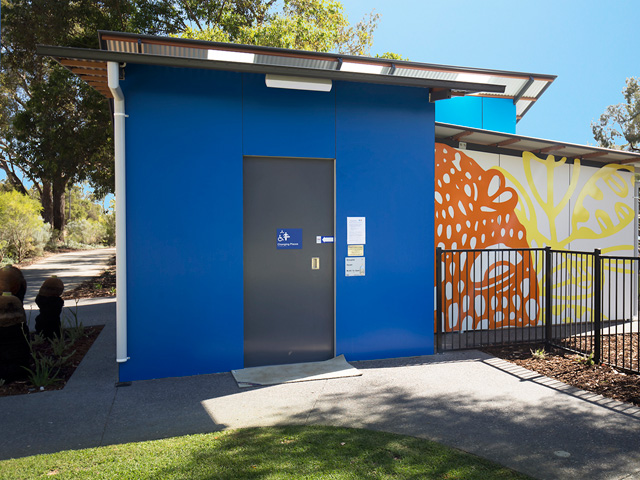 As part of a development under the helm of Cockburn Council, Landmark Products was commissioned to build a restroom for public use at Bibra Lake Public Park that would meet the requirements of a Changing Places facility.
Just south of Freemantle, the new colourful facility not only adds appeal to the seven-hectare park but opens up wonderful opportunities for people with disabilities and their carers who live in the region. Such added amenities give carers the confidence to take day trips into the great outdoors with their charges, knowing that all toiletry and hygiene needs will be fully catered too.
The Bibra Lake restroom combines a Changing Places custom-designed facility with three female, two male and two unisex ambulant amenities. In consultation with Cockburn Council, Landmark Products designed, planned, built and installed the facility, including the coordination of building permits.
The block features a 10-degree-pitched skillion roof, aluminium ventilation screens to allow for consistent airflow, aluminium composite wall cladding, with inner walls created from a veneer partitioning system. Major inclusions in the roomy facilities include automatic doors, adult-sized change tables, automated hoists, and accessible toilets and showers.
Officially opened by Cockburn's Lord Mayor, the Bibra Lake Public Park facility is the third built by Landmark Products, who are proud supporters of Changing Places Australia. In a bid to ease the process of creating Changing Places restrooms, Landmark Products have developed a standard range of facilities in kit-form, making it easy for all councils to add a Changing Places facility to their region.
Samantha Jenkinson, Executive Director of People with Disabilities WA, claims a growing number of Perth parks were being created with inclusivity in mind. Speaking of Bibra Lake Public Park, she claims, "there are only a few other fully inclusive parks in Perth with accessible toilets."
"Having this inclusive playground with toilets and picnic facilities will make this [public space] popular."
Landmark Products looks forward to continuing their support of Changing Places Australia and building many more facilities in the future.
To view the full range of Landmark Products visit www.landmarkpro.com.au
SEARCH
SUBSCRIBE TO ENEWS
MORE NEWS
UNDERSTANDING WASTE STREAMS
CREATING PARKS FOR PEOPLE OF ALL ABILITIES
DRINKING FOUNTAIN INSPIRED BY NATURE
ADD VALUE TO EXISTING SPACES WITH GRILLEX
SOAK UP THE GREAT OUTDOORS WITH RAINWARE
SECURE BIKE SHELTER AT BEACONSFIELD