BURLEIGH PRECINCT SEATING
28 Jun 2018
Destroyed by a tragic accident, Urban Fountains & Furniture were commissioned to recreate a local iconic furniture setting using materials salvaged from the original design, restoring not only the setting but also the spirits of the Burleigh Precinct community.
Gold Coast City Council (GCCC) wanted the recreation of the setting to be as close as possible to the original design, created by a local artist many years ago, however they did not have access to drawings or specifications from the original piece. Urban Fountains & Furniture were given two small images and some remaining pieces of timber from the old setting to use as a guide.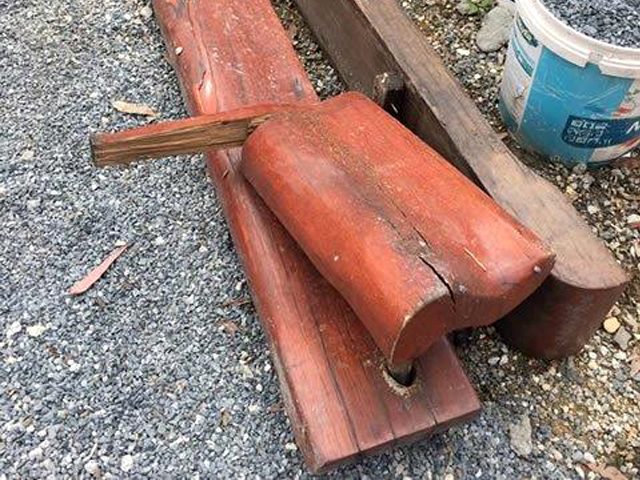 Firstly, UrbanFF took measurements from the pieces and used the supplied photographs to accurately scale the seat to the correct dimensions. The seat was then drawn up in CAD to recreate a replica as close to the original piece as possible. Drawings were then presented to Council for approval.
Next, a high grade Australian hardwood timber was sourced, profile cut, machined, routered, sanded and prepared, following the exact measurements and contours. Provision of locating lugs were used to ensure that the timber pieces would fit perfectly together when assembled. Ferrules on the feet were used to raise the seat 10mm off the ground when installed, allowing water to flow underneath when it rains, as the previous seat had begun to rot from sitting in water over the years.
The timber was then finished with Dulux DWD Tri shield process to offer maximum weather protection and sustainability.
Having recreated the seat to the highest standard of manufacturing, the new setting was installed back in its original Burleigh Precinct location, acting as an icon of timber construction to be enjoyed by both locals and visitors for many years to come.
SEARCH
SUBSCRIBE TO ENEWS
MORE NEWS
ROSEVILLE STATION GETS NEW LOOK
NEXT-LEVEL OUTDOOR FURNITURE
VOICE CONTROLLED PUBLIC RESTROOM
WHEELCHAIR ACCESSIBLE STREET FURNITURE
THE FUTURE BUS STOP
URBAN+ LAUNCHES NEW ECO-FRIENDLY BOTTLE REFILL STATIONS