BEST NEW LANDSCAPE PRODUCT
02 Jul 2012
Ozbreed's Australian Box Hedges has won Best New Landscape Product at the recent Landscape Australia Expo in Perth.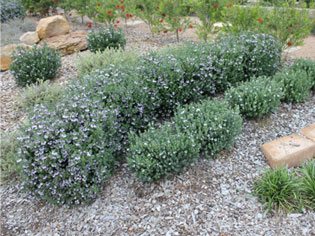 Innovative water wise landscape plants Ozbreed Aussie BoxR and Grey BoxTM were acknowledged as perfect native alternatives to exotic box plants and awarded the prestigious title of Best New Product in Show at the Landscape Australia Expo in Perth in May.
Selected by Ozbreed in Sydney, these versatile Westringia varieties are very drought tolerant and fit into the 'No Irrigation Gardening' category, meaning they are very water wise plants. This provides landscapers and garden enthusiasts with stunning uniform looking hedges and borders, without the water guzzling qualities that many other exotic plants demand.
Ozbreed Aussie BoxR is a beautiful native box hedge plant that has a very dense growth habit that can readily be pruned. Left unpruned both plants will form compact ball shapes, making them ideal for mass planting. Aussie Box is still quite compact and tidy. It produces beautiful mauve colored flowers throughout spring and summer and grows to approximately 20cm high x 60cm wide.
Grey Box is a perfect native alternative for English Box. Also a very compact hedge, slightly smaller than Aussie Box at approximately 30 cm high x 30cm wide, Grey Box provides great colour contrast with grey foliage and white flowers from September - May. Both plants look striking when planted together, creating lovely height contrast.
Suitable for all soil types, these native box hedges tolerate full sun to light shade and are very fast establishers. Not only stunning features in any garden, these plants are extremely drought tolerant and hardy, and a perfect native choice for any landscape.
These all round performers will be on display with other innovative products at Ozbreed's stand D11 at the Landscape Australia Expo in Sydney, September 13 and 14 at the Royal Hall of Industries.
You can find out more information on Aussie Box here: http://www.bestplants.com.au/native-shrubs-groundcovers/aussie-box.html
More information on Grey Box can be found here: http://www.bestplants.com.au/native-shrubs-groundcovers/grey-box.html
Visit: www.ozbreed.com.au
SEARCH
SUBSCRIBE TO ENEWS
MORE NEWS
CUSTOMISED OR BESPOKE PLAYGROUND: WHICH IS BEST?
ART MEETS PLAY WITH BLADE RECREATION
BEHIND THE SCENES AT THE HILLS BARK BLOWER
VISION FOR VICTORIA PARK
3 INDICATORS OF AN EFFECTIVE OUTDOOR PLAY SPACE
TRANSFORM OUTDOOR SPACES WITH GOSFORD QUARRIES SANDSTONE