AWARD-WINNING NURSERY
16 Jun 2015
Dream-time is an award-winning wholesale nursery passionate about growing trees to the highest quality possible.
With 29 years experience and a dedicated staff of eight, Dream-time Wholesale Nursery is passionate about growing trees to the highest quality possible.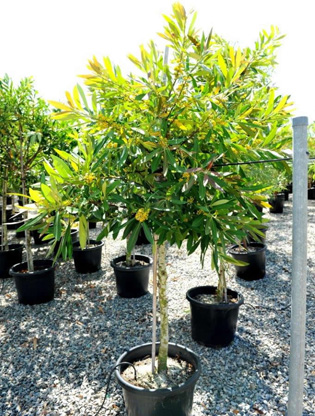 As a well managed operation utilising good policies and procedures, Dream-time has been recognised as a leader in the industry, winning seven State Awards and five National Awards for Best Small Production Nursery by the NGIV and the NGIA.
Other accolades include: five Baw Baw Shire Business Awards for Innovation and Agri Business; ICID Water Saving Award, the Save Water Award in 2011; two Gippsland Business Awards; the Gippsland Business of the year 2012; and the NGIA Hall of Fame.
Dream-time grows evergreen trees in 250mm, 300mm and 400mm containers for local councils, landscapers, retailers, thoroughbred racing facilities and local farmers. The company has readily embraced staff training and development and has three staff members that are CNP certified nursery professionals offering reliable advice and a focused approach to customer service.
The business has an active involvement in industry affairs. While putting in, the business also takes out knowledge, contacts, improved personal, business and industry relations and recognition. Dream-time wholesale nursery uses the NGIA Best Practice System in plant health, quality, pest and disease management, water management, staff training, staff safety, and all EcoHort procedures. Being an accredited nursery member of the NGIV, we have access to a quality technical backup.
The nursery is a modern facility using the latest innovative systems, most of which were developed by ourselves. This environmentally-sustainable nursery has a calcium hypochlorite treatment system to minimise pathogens which includes regular water testing. The nursery has an excellent drainage and run off collection system which is one of the best examples of its type in Australia.
Water usage is controlled by a weather station which monitors rain fall and adjusts the watering schedule on the computer irrigation system to minimise water usage. It does two very important things - it conserves our precious water reserve and reduces our carbon foot print by minimising electricity usage.
Dream-time Wholesale Nursery has adapted to changes in garden design and demonstrated the ability to adapt to changing times, growing drought tolerant trees acclimatised to local conditions.
In prior years, with the drought conditions and bush fires, Dream-time opened its doors to assist local fire victims with trees to regenerate the trees they lost on their farms. This has given us and our staff a sense of pride in helping our local community.
Dream-time also offers a contract growing service and will work in co-operation with your Landscape Architect.
For more information visit: www.dream-time.com.au
Photos (top to bottom): Quercus Coccinea - Scarlet Oak; Grafted Fairy Floss; Waterhousea Floribunda - Lily Pilly; Tristaniopsis Laurina - Water Gum; and the team at Dream-Time (top: Phil, Nathan, Allan, Rhys and Helen; bottom: Bec, Sally, Peta and Donna).
SEARCH
SUBSCRIBE TO ENEWS
MORE NEWS
AN EVERGREEN ALL-ROUNDER
DESIGNS ON A BRIGHTER URBAN FUTURE
SHADE TREES FOR FARMS AND PADDOCKS
FIGHT ROADSIDE POLLUTION WITH PLANTS
BEST PLANTS FOR EROSION CONTROL
SHARA™ LOMANDRA SURVIVES DROUGHT AND FLOOD