AUSTRALIA'S PREMIER OUTDOOR FURNITURE
23 Apr 2012
TimberImage™, a wood-look finish from Site Systems – the only realistic timber look available!
TimberImage™, the new wood-look process from Site Systems, takes the natural warm look and feel of timber grain and permanently etches it onto an absolutely maintenance-free aluminium extrusion that will last a lifetime!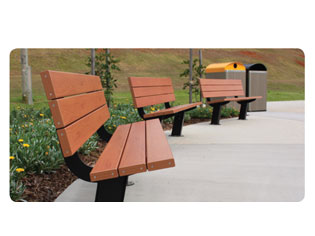 SAVE
Unlike real wood, exposure to sunlight over time won't cause fading rotting or splitting. This means the stunning wood-grain finish never needs painting or staining, which saves thousands of dollars in maintenance costs alone. It is also easy to clean, doesn't warp or dry out in the sun and, of course, is totally splinter-free. It can also be used in areas susceptible to extreme fire danger.
ENVIRONMENTALLY FRIENDLY
Conserve our resources. TimberImage™ provides the look and feel of timber without supporting the environmental disadvantages of using destructive logging practices that damage and destroy animal habitats.
MORETON BAY REGIONAL COUNCIL
Natural timber is a product many of us love to see utilised in park furniture, however, it does come with high maintenance issues.
TimberImage, the alternative lookalike timber, is made from aluminium extrusions coated in a finish that is so likened to natural timber that it is difficult to tell the two apart. It has been an absolute treat for Council's maintenance budgets as it is just like aluminium - maintenance free.
Moreton Bay Regional Council has taken advantage of this amazing range and utilised it on table settings and park seats as opposed to natural timber.
SEARCH
SUBSCRIBE TO ENEWS
MORE NEWS
VOICE CONTROLLED PUBLIC RESTROOM
THE FUTURE BUS STOP
THE UNIQUE TOUCH ADDED THROUGH THE VIENNA FURNITURE SUITE
WHEELCHAIR ACCESSIBLE STREET FURNITURE
URBAN+ LAUNCHES NEW ECO-FRIENDLY BOTTLE REFILL STATIONS
NGV'S PICTURESQUE PICNIC PAVILIONS