AUCKLAND INTERNATIONAL AIRPORT REFURBISHMENT
30 Apr 2014
The recent Auckland international airport retail development project has resulted in a visually appealing effect that has delighted both the architects and the general public.
The recent refurbishment of the Airport Shopping Centre at Auckland International Airport provided an unusual challenge for a contractor whose previous experience with gabion baskets and mattresses involved normal civil work style construction.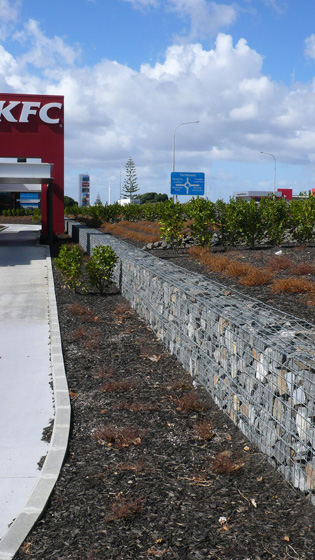 The architects for the project, The Buchan Group of Auckland, had redesigned the façade to the shopping centre incorporating gabion basket columns into the design as an architectural feature. These columns were 7m in height and 525mm x 750mm in plan. The design required the rock filled baskets to surround a structural steel column supporting the main façade and signage panels. In addition to the columns a number of bollards were also constructed topped with a bluestone capping.
The contractor chosen for this project, Fort Projects Ltd, worked closely in conjunction with the gabion basket supplier, Permathene. Fort Projects had to consider a number of design challenges not usually featured in gabion stone walls and columns. For example, consideration was given to the protection of the public from exposed wire ends along the corners of the columns. In addition, earthquake and the potential for excessive slump of rock in the columns due to wind loading of the signage panels causing the structural steel to vibrate became major design stress issues.
The contractor developed a modular system, taking standard gabion panels and bending them to provide rigid C-sections. Permathene provide the panels utilising the latest coating specification for Galfan Plus wire (90% Zinc; 10% Aluminium with average 330 grams coating). These panels were fabricated from 4mm wire with an aperture of 75mm x 50mm. To provide for the earthquake loads and elimination of vertical rock settlement, extra horizontal braces and diaphragms were incorporated into the columns. In addition, each diaphragm was reinforced with a thin horizontal concrete encasement detail to provide additional stability.
The end result of the construction closely matched that of the architect's rendition. It has provided a very appealing visual effect that has both delighted the architects and the general public.
Gabion supplier - Permathene
Permathene Pty LtdUnit 8, 20 Ricketty St, Mascot NSW
Ph: 02 8338 8879
Web: www.permathene.com.au
Permathene Ltd404 Rosebank Rd, Avondale Auckland
Ph: 09 968 8888
Web: www.permathene.com and www.permathene.co.nz
SEARCH
SUBSCRIBE TO ENEWS
MORE NEWS
DANCE FLOOR TO DIVING PLATFORM WITH BLUECHIP TRAXION
HUSQVARNA CHAMPION OF CHAMPIONS: LANDSCAPER OF THE YEAR ANNOUNCED!
EXCITING THINGS TO COME
INCLUSIVE PLAY AT TRESILLIAN PARK
ENCHANTED BOTANIC GARDENS
AUSTRALIAN-MADE RESTROOMS