ADVANCED YET SIMPLE
28 May 2014
Farmers Advanced Trees offers a diverse range of ornamental and Australian native trees from 30cm pots to 155-litre containers.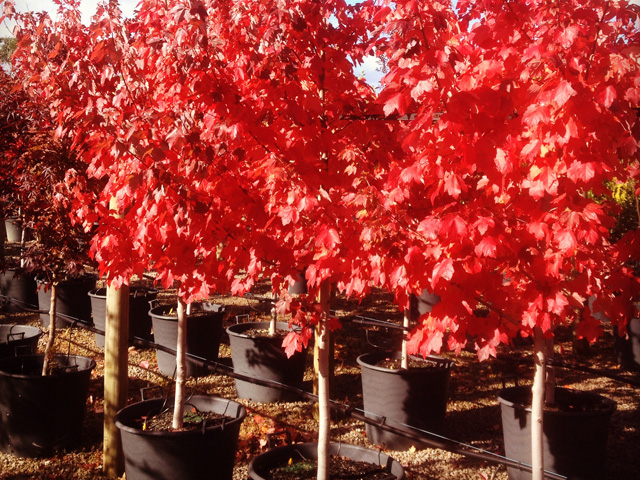 Farmers Advanced Trees encourages contract growing and primarily services the landscaping and local government sectors. The company secured an additional property back in 2011 to begin an expansion to its current site and to allow a larger container size offering. This expansion is now complete and allows an additional 8000 40/50cm and 5000 90/100-litre trees on the ground.
The new site accommodates all of the deciduous barerooted stock, and a mix of evergreen and deciduous 90/100-litre containers. That is good news for the existing site as it allows a greater number of Australian natives to be produced in both 30 and 40cm pots.
It's exciting times at Farmers Advanced Trees with the expansion and a greater marketing/promotional presence. Joining 'Landscaping Victoria' in 2013 has been an important step forward as they wanted to give back to the professional body that has provided great support to them over the years.
Farmers Advanced Trees works together with a number of nurseries to grow advanced, new and exciting tree species. The company also works closely with a number of councils and will often trial newly introduced trees in a variety of sites.
"Farmers Advanced Trees always provides us with great quality trees and service at a competitive price. When you're trying to deliver the best service for the community it starts with the best quality stock at the right price. That's why we will continue to work with Sam and Andrew at Farmers Advanced Trees," says Tim Ford, Horticulture Supervisor – City of Kingston.
Farmers Advanced Trees has an energetic and supportive team dedicated to producing quality advanced trees and it simply prides itself on delivering a great product with service. All staff, including sales and management are involved in production and logistics. They feel it's important that all staff are amongst it so
they can convey the most up-to-date information to their clients. Technology is an important factor within their training and they're always looking for ways to make it easier for both production and from a client's perspective.
Farmers Advanced Trees is situated on the Mornington Peninsula, in Victoria and is now less than one hour from the heart of Melbourne. Servicing the east coast of Australia and South Australia they welcome you to visit their nursery and receive a personal tour. The best part is the entire region offers endless activity so you'll be sure to make a day of it!
SEARCH
SUBSCRIBE TO ENEWS
MORE NEWS
BEST PLANTS FOR EROSION CONTROL
HIGH-QUALITY PLANT STOCK
STANDOUT TREES FOR A WARMER SOUTHERN AUSTRALIAN CLIMATE
EXCITING NEW PLANT RELEASES FROM OZBREED
WORLD FIRST DOUBLE LAVISH LAVENDERS
DESIGNS ON A BRIGHTER URBAN FUTURE