A SPLASH OF COLOUR
04 Jun 2020
MPS Paving was commissioned to enhance a new basketball multicourt with its Streetbond range of vibrant and durable colours that complement the adjoining playground and catch the eye of every player.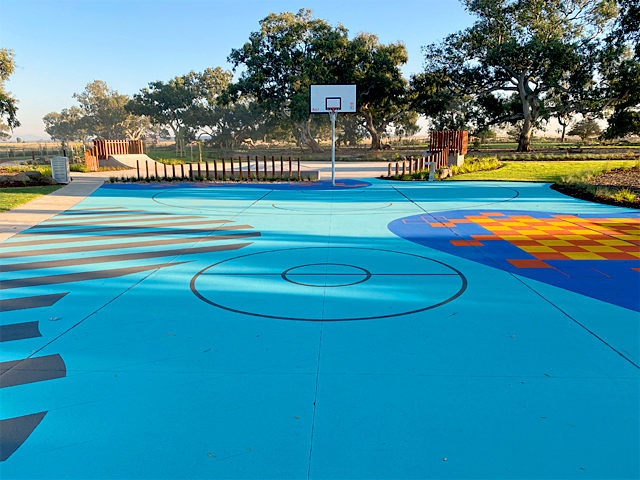 MPS Paving Systems is renowned for its range of paving paints that create eye-catching designs on outdoor surfaces to elevate a space.
Located in Gumnut Park and Adventure Playground at Olivine in Donnybrook, Victoria, the basketball multicourt has been enhanced with fantastic, vibrant colours that complement the playground aesthetic, linking the two spaces together.
ULS Group contacted MPS Paving Systems to complete the Streetbond coating on this project. This was an intricate job as everything needed to be perfectly lined up. Each colour pops and the different elements of the multicourt can be clearly seen.
The colour selection includes:
Lighter blue 'Minted Blue'
Darker blue 'Safety Blue'
Orange 'Tennis Orange'
Yellow 'Safety Yellow'
Grey 'Graphite'
MPS Paving Systems' range of StreetBond textured coating and paving paint is a practical solution to bring softness and colour to otherwise hard-formed surfaces and structures. Since it is anti-slip, paint, it can be safely applied to many flooring types to create colourful and safe surfaces.
When commercial setups and businesses have high foot traffic, it is important to reduce any slip hazards. StreetBond will give peace of mind by increasing the slip resistance of any flooring surface.
To find out more about Streetbond or any of MPS Paving's products and services contact the team on 03 9707 0077 or via the links below.
SEARCH
SUBSCRIBE TO ENEWS
MORE NEWS
WATERPROOFING TO THE MAX
COLOUR LIKE NO OTHER WITH MPS SPORTPAVE
BASKETBALL COURT GETS VIBRANT NEW LOOK
REST EASY WITH STAIN-PROOF™
VISIONARY SURFACE TREATMENTS
WATERPROOFING UNDERGROUND WITH DRIZORO