7 WAYS TO ACTIVATE OUR STREETS
02 Jul 2020
The challenges posed by COVID-19 have forced us to become more aware of the value of public spaces. Street Furniture Australia looks into seven case studies that show how street furniture is being used to activate our public spaces and improve community wellbeing.
Street Furniture Australia products are proved to activate public spaces and deliver results, with an extensive range of street furniture options that enliven our communities.
Case 1 | Creating Millions of Smiles
Woden Experiment was a six-month prototype installation by the ACT Government that aimed to bring life, joy and comfort to Canberra's Woden Town Square. Brightly coloured seats and tables were configured in random positions to create a casual and welcoming vibe. Community interviews, observations and workshops were at the heart of this project.
Find out more about the project here.
Project Woden Experiment, Woden Town Centre, ACT
Year 2018 – 2019
Client ACT Government (Initial Concept Design by Context). Event programs managed by Woden Community Services.
Products Forum Seat, Forum Low Table, Cafe Round Table, Cafe Stool
Forum Seat, Cafe Round Table and Cafe Stools in Telemagenta Pink, Bondi Blue, Sensation Orange and Viper Green
CASE 2 | A BUSY STREETSCAPE
The Aria Seating System entices people to stop along a busy street by offering places to rest, meet, dine and even bring the laptop outside. This Smart Cities project uniquely combined placemaking, industrial design and smart technology to create engaging spaces for the Federal Smart Cities and Suburbs Program.
Find out more about the project here.
Project ChillOUT Hub, Belgrave Street, Kogarah, NSW
Year 2019 – 2020
Client Georges River Council, UNSW and University of Sydney
Products Aria Seating System, Cafe Round Table, Cafe Macchiato Table, Cafe Stool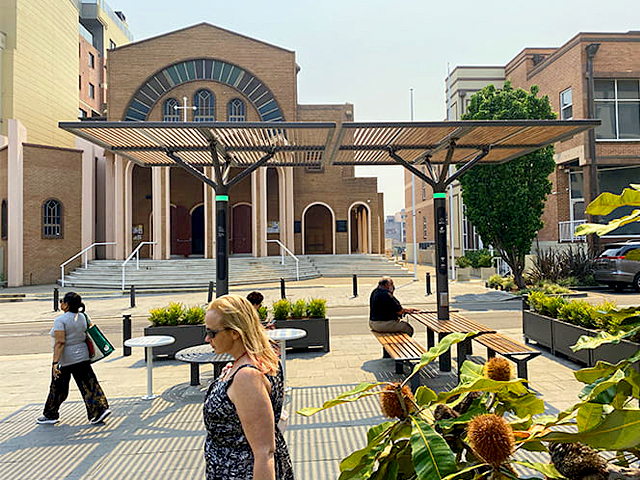 ChillOUT Hubs are prototype smart open-air community spaces being tested onsite
CASE 3 | PHYSICAL DISTANCING WITH A VIEW
Brisbane City Council created a green riverside community retreat with new furniture, trees, landscaping and pathways for pedestrians and cyclists in an upgrade for the West End Riverside Parklands.
Visitors can rest and watch the river on Mall Sun Lounges installed on the bank. The battens are powdercoated in a spectrum of green to promote relaxation.
Project West End Riverside Parklands, QLD
Client Brisbane City Council
Product Mall Sun Lounge
Mall Sun Lounges with battens in Pearl White, Lycra Strip Green, Viper Green and Shamrock Green
CASE 4 | GREEN BOUNDARIES
Planter boxes bring greenery to soften spaces, contributing to community wellbeing and cooling the urban heat island effect. Use planters to mark out areas and boundaries – delineate activation footprints to make installations feel less exposed and increase social comfort for sitting. They can also mark expanded footpaths and cycle lanes for social distancing on the street.
Product Frame Planter
Frame Planter, rectangular with Textura Woodland Grey panels
CASE 5 | THE MOVEABLE SEAT
Combine fixed and moveable seats and tables to anchor a design, with a degree of flexibility – allow users to arrange seating to socialise or follow the shade. Forum is a hybrid of a street furniture and patio seat – moveable yet durable for use in the public realm.
Forum is available in 1-, 3- and 4-seater configurations.
See this article on the moveable seat, William H Whyte and the power of choice.
Products Forum Seat, Forum Low Table, Cafe Round Table, Cafe Stool
Forum Seats and Cafe Round Tables, powdercoated in DuraBright colours
Flexible settings with Forum Seats, Cafe Round Tables and Cafe Stools
CASE 6 | DATA FOR STORYTELLING
Watch the video below about how #BackyardExperiment boosted visitation by almost 200 percent through a street activation in Garema Place in Canberra's CBD. This project, inspired by William Whyte, received the 2018 Australian Smart Cities Award in the Built Environment category by the Smart Cities Council ANZ.
A free white paper is available here.
Project #BackyardExperiment, Garema Place, ACT
Year 2016
Clients AILA, ACT Government
Products Forum Seat, Cafe Round Table, Cafe Stool
60 movable seats. Eight days. One location. This short documentary shows how a colourful popup park increased foot traffic by 190 percent in only eight days.
A joyful popup. Forum Seat in Bondi Blue
CASE 7 | RAINBOW BRIGHT
Street Furniture Australia's powdercoat colours feature DuraBright™ for extra fade-resistance and a peace of mind. Add a pop of colour to attract people to spaces, soften hard surfaces and brighten the mood.
Project St Anthony's Catholic Primary School, NSW
Products Mall Curved Slim Bench, Mall Slim Bencj
Mall Curved Slim Benches with Mall Slim Benches powdercoated in a DuraBright rainbow spectrum.
MADE IN AUSTRALIA
All Street Furniture Australia products are ISO certified and quality controlled to ISO standards. Inhouse powdercoating offers a wide range of colours, featuring DuraBright for bright palettes with extra fade resistance.
The friendly sales team is available to assist you today. Enquire now to ask for a brochure, pricing, CAD files and more via the links below.
SEARCH
SUBSCRIBE TO ENEWS
MORE NEWS
THE BENEFITS OF USING AUGMENTED REALITY TO DESIGN PUBLIC SPACES
CREATING PARKS FOR PEOPLE OF ALL ABILITIES
WHAT MAKES A DRINKING FOUNTAIN DDA COMPLIANT?
ADD VALUE TO EXISTING SPACES WITH GRILLEX
DOGGIE DUNNIE | A DOG PARK NECESSITY
SECURE BIKE SHELTER AT BEACONSFIELD