18 INNOVATION WALK
19 Jun 2018
Turning the grounds of Monash University into a dynamic outdoor art gallery, 18 Innovation Walk by PTA Landscapes forms a functional and attractive landscape for staff, students and visitors that is hard to miss.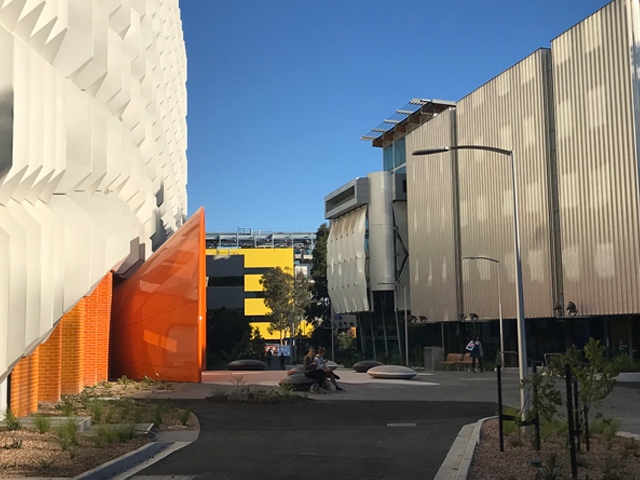 Completed in March 2018, 18 Innovation Walk was a collaborative project with PTA Landscapes at the helm as the landscape contractor. With a focal point you can't miss, the project features a mix of hard and soft landscaping elements that form the open space that flows across the front of the biology building on the University's Clayton Campus.
Influenced by the curtain wall principle, the glass-reinforced concrete (GRC) skin of the biology building is lifted in various spots across the façade to reveal the bright glazed bricks beneath, while the halo-like entry to the building was inspired by the ubiquitous science lab beaker. Appearing tipped on its side, spilling its contents out over the black granite paved walk and into the surrounding landscape, the entry to the building is a vividly hued architectural statement.
The spill is constructed of insitu white concrete with custom stainless steel edges that have been ground back to expose the quartz aggregate and then lightly sandblasted. Precast polished concrete bollard seats, surround and secure the spill. These elements are lit up at night along with the entry.
Irrigated garden beds with diverse plantings of Australian natives complement the modernist aesthetic yet ground the building in the space through the use of a mixture of natural organic and stone mulch.
Insitu walls provide seating opportunities along the walk, accommodating level changes and providing protection to the gardens. Other works on the project include exposed aggregate and sandblasted charcoal pavements, rain gardens, lighting and fixtures, and furniture to provide the area purpose and function.
Not only complex in its construction, the project also had significant site management constraints due to access requirements, the proximity of surrounding buildings, and having to negotiate the comprehensive underground network of services, which PTA Landscapes was able to overcome with forward planning and a team of skilled professionals.
As a full-service landscape company that delivers a diverse range of projects for commercial, residential and educational clients, the team at PTA Landscapes pride themselves on implementing creative solutions in response to design challenges.
Visit the PTA Landscapes website to find out how the team can turn your next project into a dream design built to stand the test of time.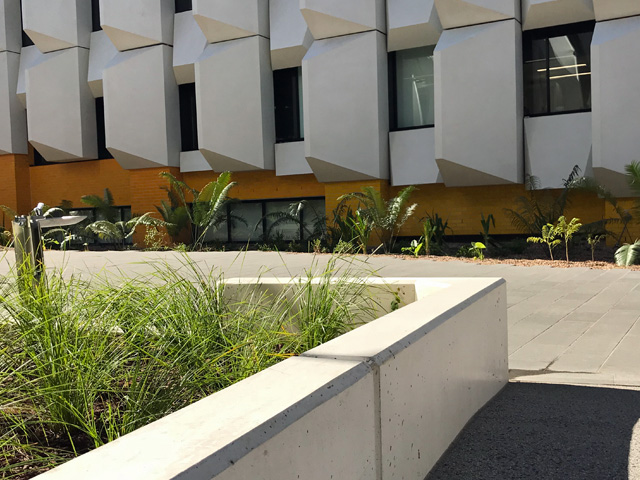 SEARCH
SUBSCRIBE TO ENEWS
MORE NEWS
A CLASS ALL IT'S OWN
SAVE ON PROJECT MAINTENANCE
ECO TREE PLANTING
STAR OF THE SHOW
VERTICAL GARDEN GETS GROWING AGAIN
ASPIRING FOR A LITTLE MORE WITH FLEMING'S