ZOOTOPIA PLANNED FOR DENMARK
13 Aug 2014
Arranged around a hardscaped central plaza, this zoo complex will integrate building elements with the landscape and offer the freest possible environment.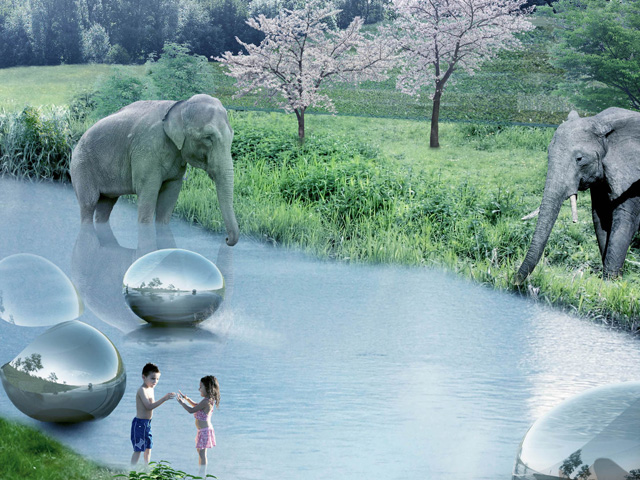 Commissioned by the Givskud Zoo in Denmark, 'Zootopia' seeks to remove the physical partitions and cages typically utilised in zoos, providing the freest possible environment for the animals, and their relationship to each other and human visitors.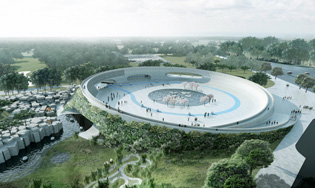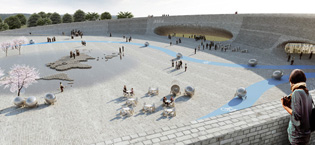 As opposed to the traditional zoo design model in which visitors are encouraged to follow an endless concourse, Zootopia is organised as three separate loops of sinuous geometry - with each representing a different region of the world (Asia, Africa and the Americas). Visitors are channelled into a central circular piazza from which they can then venture outwards into the three realms.
The design includes a variety of circulation means, including by bike, on foot, by car, by boat, and even by cable car for an aerial perspective. The complex's building elements are integrated with the landscape to conceal their appearance to the animals while distinctly fitting to the individual species.
"Instead of copying the architecture from the various continents by doing vernacular architecture, we propose to integrate and hide the buildings as much as possible in the landscape," commented BIG who will be designing the project.
"Architects' greatest and most important task is to make sure that our cities offer a generous framework for different people – from different backgrounds, economy, gender, culture, education and age – so they can live together in harmony. Nowhere is this challenge more acrimonious than in a zoo."
SEARCH
SUBSCRIBE TO ENEWS
MORE NEWS
TAKING URBAN PLANNING TO NEW HEIGHTS
NOVELTY LOUNGES SIZE UP
PARK PAVILION GETS ROBOTIC
AN ENDLESS LINE OF LIGHT
CATERING TO DEMAND
SPOILED FOR CHOICE