ZAHA HADID'S NEW HEYDAR ALIYEV CENTRE
04 Dec 2013
Rising seamlessly from the ground, this cultural centre in Baku comprises a series of overlapping fluid surfaces.
Zaha Hadid Architects has completed the Heydar Aliyev Centre in Baku, Azerbaijan - a cultural centre with walls that rise seamlessly from the surface of the surrounding plaza.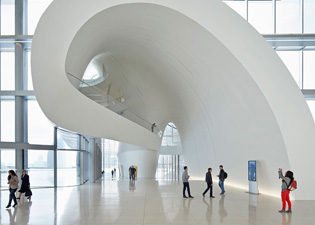 Comprising a series of overlapping fluid surfaces, the building was designed by Zaha Hadid Architects as the main venue for exhibitions, concerts and other cultural activities in Azerbaijan's capital city.
Glass-fibre reinforced concrete panels create the wall's undulating surfaces, while windows and entrances are slotted into openings between different volumes. Continuous calligraphic and ornamental patterns flow from carpets to walls, ceilings and domes, establishing seamless relationships and blurring distinctions between architectural elements and the ground they inhabit.
"The centre breaks from the rigid and often monumental Soviet architecture that is so prevalent in Baku, aspiring instead to express the sensibilities of Azeri culture and the optimism of a nation that looks to the future," said project architect Saffet Kaya Bekiroglu.
The ornamental patterns and curving forms of the building were inspired by traditional Islamic architecture.
"Our intention was to relate to that historical understanding of architecture, not through the use of mimicry or a limiting adherence to the iconography of the past, but rather by developing a firmly contemporary interpretation, reflecting a more nuanced understanding," he said.
The smooth surfaces of the exterior continues through the building's interior, where large column-free spaces accommodate different uses, including a library, a museum and a 1000-seat auditorium.
Tiered balconies allow views between different floors and spaces, while lighting is slotted into narrow recesses within the walls.
During the day, the building's volume reflects light, constantly altering the centre's appearance according to the time of day and viewing perspective. The use of semi-reflective glass gives tantalising glimpses within, arousing curiosity without revealing the fluid trajectory of spaces inside. At night, this character is gradually transformed by means of lighting that washes from the interior onto the exterior surfaces.
Zaha Hadid Architects was appointed as design architects of the Heydar Aliyev Centre following a competition in 2007.
SEARCH
SUBSCRIBE TO ENEWS
MORE NEWS
CENTRAL PARK VISION FOR MIDTOWN MACPARK
SYDNEY'S NATURAL STONE SPECIALISTS
NATURE-BASED PLAY
LANEWAYS REVITALISATION PLAN
PARK WARRIOR COURSES ARE SPRINGING UP ACROSS AUSTRALIA!
CREATING TIMBER ALTERNATIVES