ZAHA HADID'S FLOWER TOWERS FOR BRISBANE
10 Sep 2014
One of the world's most famous architects, Dame Zaha Hadid has unveiled the design for her first Australian project.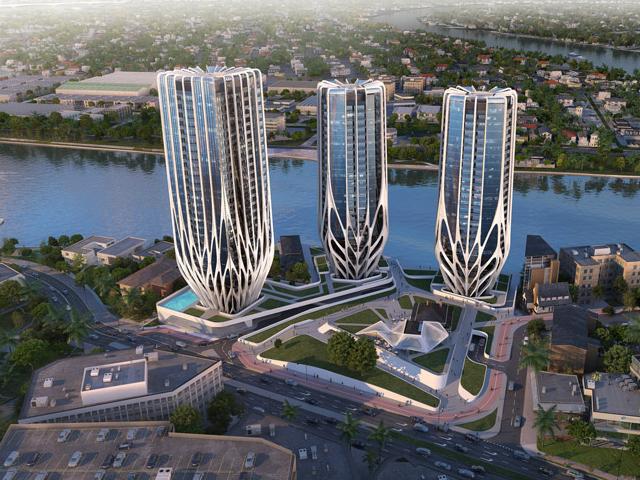 Grace on Coronation, designed by world-renowned architect Zaha Hadid consists of three sculptural residential towers which blend architectural elegance with vibrant urban parklands and heritage conservation, adjoining the Brisbane River in Toowong
The unique multilayer facade design comprises a curtain wall glazing overlaid with a quilted diamond pattern made from glass reinforced concrete. The result is an organic, sculptural design reminiscent of a flower in bloom.
"The design tapers each structure to minimise their footprint and open the riverfront to the public; creating a vibrant civic space for Toowong within a new riverside park," Zaha Hadid explained.
Developers Sunland Group are confident this will set a benchmark for residential designs. Managing Director Sahbda Abedian commented "the smoothness and elegance of the design is unlike anything Brisbane — or Australia — has ever seen."
"Our vision is to create a vibrant urban village which sensitively activates its urban and riverfront context through compelling architecture and landscape design."
"Importantly, it is a vision that opens up the site to the broader community through the creation of expansive public parklands, a riverside viewing platform and the transformation of Middenbury into a meaningful public space."
The site for the project was formerly occupied by the headquarters of Australia's ABC Radio network, but was abandoned in 2006 after 17 women who had worked on the site were diagnosed with breast cancer in an apparent cluster. The building has since been declared safe for development.
Grace on Coronation will contain 486 apartments and eight riverfront villas, along with car parking spaces and 7,300 square meters of landscaped public parklands.
SEARCH
SUBSCRIBE TO ENEWS
MORE NEWS
BEHIND THE SCENES AT THE HILLS BARK BLOWER
CUSTOMISED OR BESPOKE PLAYGROUND: WHICH IS BEST?
3 INDICATORS OF AN EFFECTIVE OUTDOOR PLAY SPACE
VISION FOR VICTORIA PARK
TRANSFORM OUTDOOR SPACES WITH GOSFORD QUARRIES SANDSTONE
ART MEETS PLAY WITH BLADE RECREATION