YUNGABA HOUSE UPGRADE
09 Feb 2017
Yungaba House in Brisbane has received a new addition from Steel Post and Rail as part a refurbishment to the historical site, giving it a modern yet classic update that blends history with function.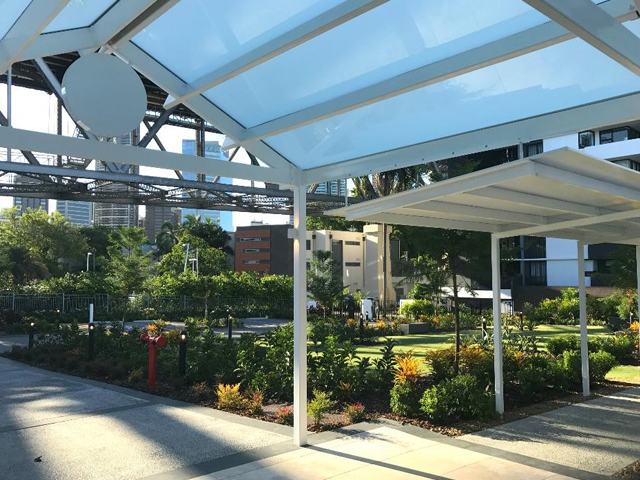 Yungaba House, located on Main Street at Kangaroo Point, forms an iconic part of Brisbane's history. A formidable part of Australia's history of settlement, the historic Yungaba House was originally known as 'Brisbane's front door'. The house served as an entry point for a slew of migrants who flocked to Brisbane's shores during the 1800s. Now transformed into newly formed luxury apartments, Yungaba House has nonetheless retained its historical character.
As part of the Fraser Property Group's refurbishment of this iconic site, Hutchinson Builders commissioned Steel Post and Rail Pty Ltd (SPR) to design and install a unique walkway arbour and a gable roof portico structure to upgrade the function of the property. Mindful of its heritage, SPR designed the new structures to maintain the connection between past and present, creating a seamless integration of the roof line to the building facade.
The new structures were designed, manufactured and installed by SPR using their proven hot dip galvanised steel system. A powercoated finish in Satin White was used to complete the structures, which feature floating drop-down connections between portico and arbor, with set-downs in the roof line to complement the fall of ground level while maintaining a horizontal roof line in each section. The painted CFC roofing panels are practical, both hard-wearing and well insulated in their construction.
The stunning additions to Yungaba House are just one of many examples of quality work from the team at SPR. As specialists in custom production, SPR can create products to match the specifications of any site and fulfil a variety of requirements of form and function.
To view the full range of Steel Post and Rail products visit www.steelpostrail.com.au
SEARCH
SUBSCRIBE TO ENEWS
MORE NEWS
BRIDGE SOLUTIONS FROM BIG RIVER GROUP
TRAXION MINERAL-FIBRE DECKING
AILDM 2020 DESIGN WINNERS
$50M PEDESTRIAN BRIDGE INSPIRED BY INDIGENOUS FIGURES
COMPOSITE TIMBER DECKING
2020 LANDSCAPE QUEENSLAND EXCELLENCE AWARDS