WALK WITH US
06 Jun 2017
Wynyard Walk, opened in November 2016, is an impressive architectural structure that connects one of the busiest transport hubs in Sydney to the new commercial and leisure precinct of Barangaroo and the CBD's western corridor.
Located in one of the peak pedestrian, traffic and transport hubs of Sydney's CBD, the Wynyard Walk enables thousands of commuters, tourists and residents to travel under the city streets to access workplaces, commercial, retail, and public spaces.
Woods Bagot, the international architecture firm responsible for the care and ease of access of these commuters, faced the challenge of the design head on and have delivered an impressive structure that values the users experience alongside the fluid movement of pedestrians.
The firm's website explains that the "fully accessible pedestrian link [was] designed around the concept of 'flow'. The design challenges the perception of a transport interchange, shifting the emphasis from efficiency of travel to the quality of experience.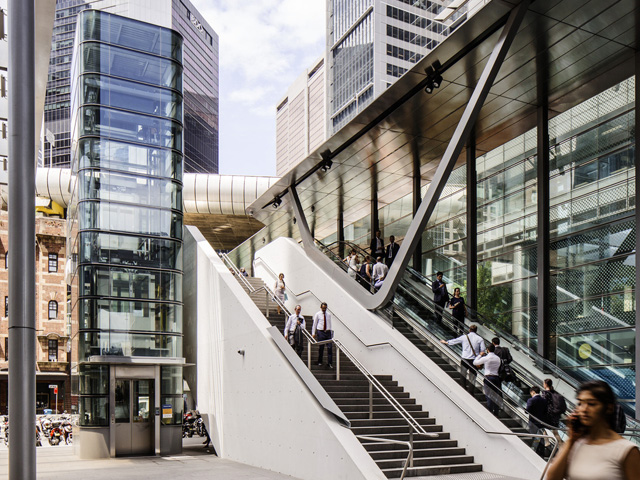 Providing a highly functional and practical connection, the design is focused on the quality of the customer journey – allowing pedestrians to travel from Wynyard Station to the Barangaroo waterfront in approximately six minutes by avoiding steep inclines and road crossings."
To maximise the ease and speed of the journey between Wynyard Station and the western corridor of Sydney's CBD, Wynyard Walk is comprised of a series of above and below ground urban interventions including a nine-metre wide pedestrian tunnel, bridge, plaza and a new civic building connecting the existing Wynyard Station.
"The design concept of flow draws on the natural geology of the Sydney Basin, with its landscape of deep cliffs, gorges, beaches and estuaries carved by erosion. A metaphor for the fluid flow of pedestrians, the design references the movement of water as, like water, people follow the path of least resistance. The linearity of movement is reinforced through materials and detailing to enhance wayfinding and create a unified experience."
In addition to drawing inspiration from Sydney's natural geology, the material chosen for use within the project are also inspired by earthen materials. Material used include concrete and stone to ground the project, while lighter elements such as glass and metal are constructed to provide canopies that filter natural and artificial light.
The design of Wynyard Walk also incorporated sustainable and longevity practices in order to ensure that the structures ongoing maintenance over its project 100-year life span is environmentally friendly.
"A lifecycle costing analysis of the tunnel lighting reduced the carbon footprint, with natural daylight supplemented by the use of LED strip lighting throughout the project. Materials were selected for environmental performance."
This eye catching, high volume walkway has a projected 20,000 commuters travelling between the CBD hubs of Barangaroo and Wynyard station, as a pedestrian artery for the city CBD Wynyard Walk is both a memorable architectural landmark, and a socially sustainable piece of infrastructure.
Images courtesy of Trevor Mein
SEARCH
SUBSCRIBE TO ENEWS
MORE NEWS
SYDNEY PUTS PEOPLE FIRST
LOW HEIGHT DECK INSTALLATION SOLUTIONS
A WORLD-FIRST
ELECTRICAL INFRASTRUCTURE SOLUTIONS
PROUD LITTLE PYRAMID BY ADAM NATHANIEL FURMAN
BUTTERFLY AND FLOWER THEME FOR 10TH CHINA FLOWER EXPO