TIMELESS TERRACOTTA FOR THE MODERN AGE
26 Jul 2017
Martin Kellock Pots and Planters has released a new range of terracotta pots. These classically-styled products are suitable for a number of commercial or domestic project applications and require no pretreatment for outdoor use.
Well-crafted terracotta pots lend a timeless look to any garden design. Martin Kellock Pots and Planters (MKPP) is excited to introduce their beautiful new range of Italian terracotta pot designs, the classic stylings and texture of which render this range suitable for a wide variety of commercial and domestic projects.
The porous clay material used in the terracotta range dissipates heat naturally, supporting plant health by maintaining constant root temperature. Terracotta requires no pretreatment for outdoor use and adds textural interest and warm colour among the greenery - it's no wonder terracotta pots have remained so highly sought after for centuries.
Italian terracotta is a premium product; modern manufacturing technology ensures durability and consistency of dimension, thickness and colour. And although terracotta has been used for millennia, it is this modern consistency that produces pots with crisp lines that make them well suited for both contemporary and formal plantscapes. Another advantage of today's reliable production methods is the ability of the team at MKPP to provide volumes orders of identical pots for large-scale commercial applications.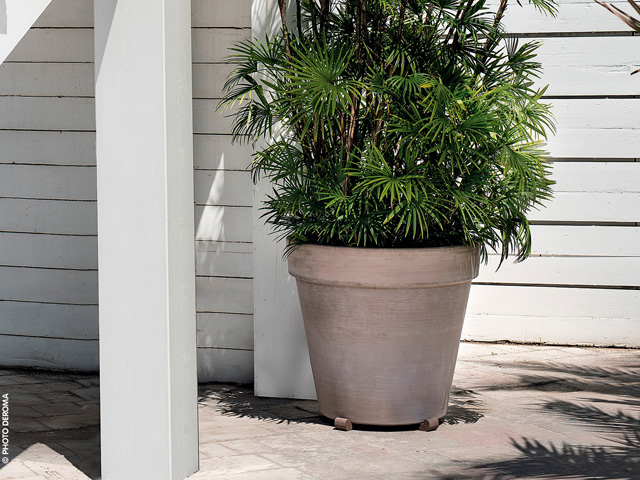 In particular, large terracotta pots - available in 60cm and 78cm diameters - make a bold statement in private gardens and commercial settings alike. In addition, terracotta is a superb material that allows for colouring in striking accents and/or muted palettes
Classic yet adaptable pot shapes within the MKPP range honour the historic feel of terracotta, while fresh graphite and white colour mixes translate seamlessly into a contemporary style.
To view the entire range visit the Martin Kellock Pots and Planters website.
Images © Deroma
SEARCH
SUBSCRIBE TO ENEWS
MORE NEWS
BLACK & WHITE POTS INSPIRE CREATIVITY
CHOOSING THE RIGHT TERRACOTTA
ORGANIC PRODUCE FOR PUBLIC SPACES
ZONING SPACE WITH TROUGH AND CUBE PLANTERS
CAFé GROWS TO LIFE
BLACK BEAUTY