THE WILLOW FOR AUSTRALIAN STREETS
30 Aug 2017
Native Willow (Geijera parviflora) is an underutilised street tree that is extremely hardy once established and performs well in urban conditions, making it an excellent option for the Australia streetscape.
As specialists in the production of high-quality trees and shrubs, Botanix Plant Supply has supplied its fair share of trees for streetscape projects. Highly recommended from their range is the Geijera parviflora, the Wilga or Australian Willow, which is a small tree that can handle an array of climatic and soil conditions.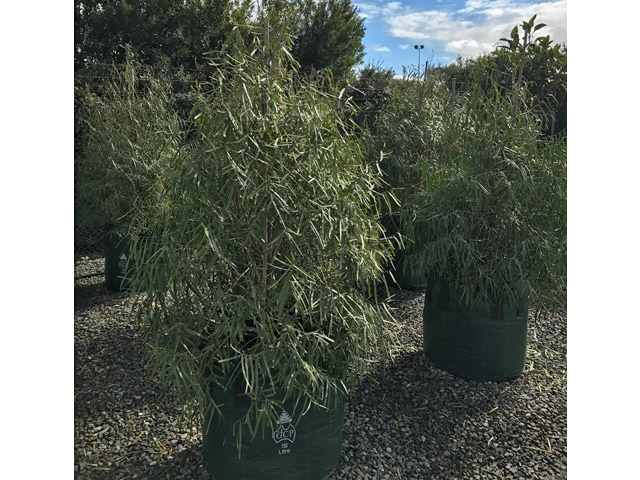 Geijera parviflora is ideally suited as a street tree due to its small mature size (generally 6-8m) and its low moisture requirements once established. It has a dense canopy and thin, glossy green leaves, with small white flowers appearing in spring. The flowers are said to be citrus scented and are attractive to small birds, bees and other insects. As the tree ages, its habit becomes slightly pendulous; combining this with its narrow leaves gives the Wilga an almost willow-like appearance.
Wilga will perform in most soil types (including alkaline), and even those where irrigation is very limited. Its ability to handle both heat and some frost make it an ideal choice for regional or inland Councils, where climatic variances can often be more extreme.
In the past, the Wilga was seen as quite difficult to propagate, which is why it has been underutilised as a street tree. Botanix Plant Supply is pleased to announce that they have good numbers of Wilga available in 40cm pots, which are ideal for streetscapes, as well as 70lt pots and 150lt bags which are perfect sizes for parkland or feature trees.
For more information on the Wilga and other street trees, contact Botanix Plant Supply or visit their website for further details.
SEARCH
SUBSCRIBE TO ENEWS
MORE NEWS
HOW ROOTS LOCATE WATER
TREES THAT MAKE IMPACT
EVERGREEN TREES STAND TALL
GIVING TREES TO THE MCC
SPECIALITY TREES ARE LOOKING BEYOND 40
WHEN BIGGER IS BETTER