THE GATHERING PLACE
11 Jun 2020
Named one of the best playgrounds in the world, The Gathering Place in Oklahoma is America's largest playground, featuring over 27 hectares of playspace packed with hundreds of incredible play pieces from Richter Spielgeräte. Take a look.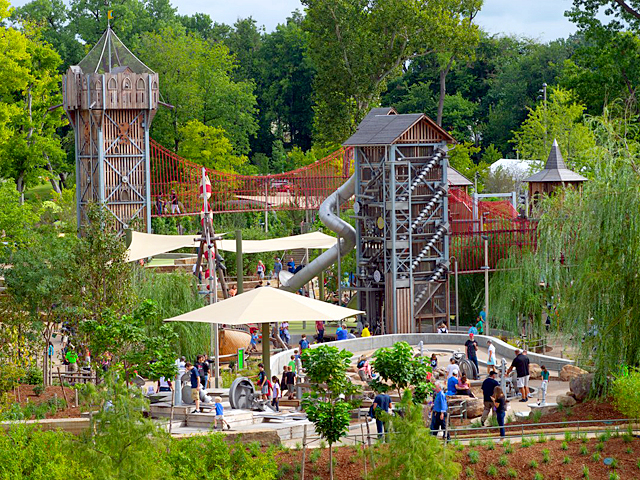 Richter Spielgeräte is a family-owned company that has been operating from Germany for over 50 years. Every piece of play equipment produced by Richter is painstakingly crafted from local wood.
The Gathering Place was opened to the public on September 8, 2018. The space is packed with hundreds of pieces of Richter's play equipment, which includes six gigantic towers connected by eight bridges – one of them spanning 18 metres at a height of six metres!
The Tulsa Towers, which were specially designed for the project, are 14 metres high and offer a unique view of the surrounding area, with the top platform coming to a height of 10 metres.
The towers were produced in Frasdorf in Upper Bavaria, Germany, and were erected by the manufacturer for testing purposes on Richter Spielgeräte's company. They were then disassembled and shipped to the USA, along with the rest of the equipment, in a total of 32 shipping containers.
Additional features include Richter's first vertical water playground, a ship, an eight-metre tunnel slide and a nine-metre-high wooden elephant.
Günter Beltzig, who has worked closely together with Richter for over 30 years, designed the ship, elephant and Throne Ring – a seating circle made of concrete elements with a very special atmosphere and acoustics.
The gigantic dimensions of the structures hint at the unique aspect of the project and ring in a lasting positive change for playgrounds in the USA.
The Gathering Place was named one of the best parks in the world by the National Geographic in 2018.
Interested in specifying Richter Spielgeräte's bespoke range of hand-crafted German play equipment? Contact exclusive Australian distributor Marcus Constructions via the links below.
SEARCH
SUBSCRIBE TO ENEWS
MORE NEWS
A NEW LEVEL OF WATER PLAY
GIANT TREEHOUSE TAKES PARK TO NEW HEIGHTS
ROPE PLAY INSPIRATION
GALACTIC NETS IN THE PLAYGROUND PROMOTE SPATIAL AWARENESS
THE ORBIT OF FUN
IN SHAPE, WE ARE STRONGER!