TEACH A MAN TO FISH…
20 Mar 2017
Teach a man to fish and he shall water his nursery? Top End resident and farm owner Steven Rose is using barramundi water waste to give his plants an extra dose of nutrients. Read on to find out what he has to say about the practice.
Steven Rose's nursery is located at Edith Farms north of Katherine, with water usage a crucial element of his nursery operation, the Katherine climate's polar dry and wet seasons require an advanced irrigation watering system for his plant life's success. To maximise the nutrients delivered to his crop, Steven has begun using wastewater from a tank full of barramundi to fertilise his plants.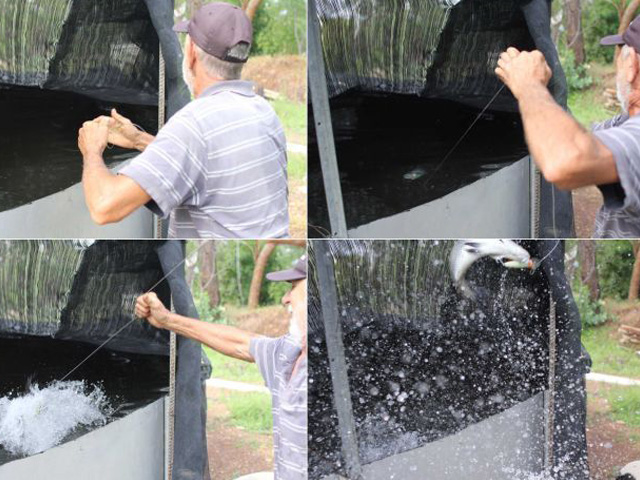 So far Steven has raised about 150 barramundis from fingerlings, and the water from his barramundi fish tank is recycled through the nursery's irrigation system, then collected and run onto a tropical fruit orchard.
Mr Rose has reported that the recycled water was beneficial to his plants.
"It adds some trace element nutrients to the plants, not a huge amount of nitrogen because it is a very large nursery, 1,500 square metres, and when you use the water every day it doesn't become too concentrated with fish waste," Steven said.
"So it just adds that little bit extra to the plant and makes them nicer. They do appreciate it."
Initially, the fish tank had been "a bit of an experiment". Steven explains that "nobody else could give me any information on how many fish, how big the system needs to be, all the little variables that make it all work," he said.
"So, this first batch of barramundi I had 400 to run through the system to see how it all works. In the future I could put in a lot more fish and create more nutriment and still be able to deal with that."
Despite confirming that his plants and orchards have seen a marked improvement with the use of the recycled water, Steven has commented on the expense of the operation.
"Barra food is four dollars per kilogram. The barra themselves at 100 millimetres are $2.50 each and the conversion rate for the food is 1.2kg of food for a kilogram of fish," he said.
"Then you have to add in the cost of the infrastructure, water pumping."
When asked about diversifying his operation and perhaps selling the barramundi to the public, Steven mentioned that licensing costs are currently too prohibitive.
"I need to do more work with the government because the licensing costs to a small operation adds too much cost to the end product, and it would be unviable," he said.
"I have people come to the nursery and watch the fish feeding, and a lot of the time they [the barramundi] are not that energetic. But when everyone is gone and you throw [the fish food] in, you have to stand back because you get wet."
Time shall tell whether or not Steven manages to develop a budget friendly way to continue his barramundi waste water system, in the meantime, this fertilising venture certainly is food for thought for the rest of us growers out there.
This article originally appeared on the ABC Rural site, with credits to writer and photographer Daniel Fitzgerald.
SEARCH
SUBSCRIBE TO ENEWS
MORE NEWS
QUALITY SURFACES FROM MPS PAVING
VISITOR HUB AND LIBRARY FOR PRAHRAN SQUARE
2020 AUSTRALIAN INSTITUTE OF HORTICULTURE AWARDS
A CLEANER MESH SOLUTION FROM RICKY RICHARDS
GYRO MULTIDIRECTIONAL SWING FROM ADVENTURE+
HEALTH INFRASTRUCTURE DELIVERY CHANGES