SUSTAINABLY-SAVVY INTERCONNECTED TOWERS
12 Feb 2014
China boasts a pair of interconnected towers linked with "streetscrapers" and boasting an array of sustainable features.
One of the world's largest internet companies, Tencent, has teamed up with NBBJ to design and build their new headquarters in Shenzhen, China.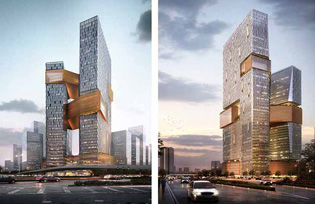 Designed as a pair of interconnected towers, the new Tencent Corporate Headquarters boasts a slew of sustainable features and cuts their carbon emissions by 40 per cent when compared to conventional office towers of a similar size.
The two towers are connected with horizontal "streetscrapers" that reference the connective nature of the internet company's field of operation. Thanks to its linked configuration, the building allows for a greater degree of movement and exchange and enables the projected 12,000 additional employees to navigate their workplace with more ease.
The towers are designed to quadruple the company's current number of employees and offer them an optimal work environment.
Each of the skybridges is focused on a specific theme, for example the "Knowledge" floor comprises conference rooms and libraries, while the "Health" bridge houses a recreational area with basketball courts and swimming pools.
The towers boast state-of-the-art sustainable mechanisms and take advantage of its orientation. Slightly rotated, the buildings can capture the prevailing winds and naturally ventilate the atria. The façade incorporates a modular shading system responsive to different sun exposure. The entire development is planned to reduce carbon emissions by 40 per cent compared to a typical office tower.
SEARCH
SUBSCRIBE TO ENEWS
MORE NEWS
BEHIND THE SCENES AT THE HILLS BARK BLOWER
VISION FOR VICTORIA PARK
3 INDICATORS OF AN EFFECTIVE OUTDOOR PLAY SPACE
ART MEETS PLAY WITH BLADE RECREATION
TRANSFORM OUTDOOR SPACES WITH GOSFORD QUARRIES SANDSTONE
CUSTOMISED OR BESPOKE PLAYGROUND: WHICH IS BEST?