STREET SIGNS OF NEW YORK
30 Apr 2020
In the era of COVID-19, one designer takes a look at the street signs of New York with fresh eyes, rethinking what our urban signage has to tell us about our spaces.
A Love Letter to NYC by Dylan Coonrad, AIGA, Creative Director of CannonDesign
"I'm not a day-in, day-out runner, but when I do run along the streets of Brooklyn, I love to people (and dog) watch. That was essentially impossible last week as I ran amidst empty streets and vacant businesses.
"Instead, I found myself paying attention to the road signs along my route. I've seen them countless times, but with each footstep, I really focused on what they were telling me: cross the street, do not enter, no parking, speed bump ahead.
"These were the rules of the road just weeks ago. Now they're less important. Today, society needs constant reminders to socially distance, stay home, protect our elders, and much more. It crossed my mind that these universally recognisable street signs could be totems for the messages we need in these unprecedented times.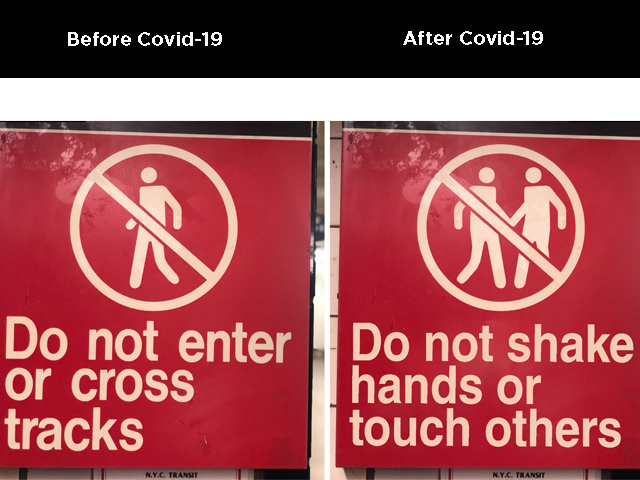 "These images represent that exploration. How could socially critical communication tools like street signs help us adapt to the new normal? Conceptual in nature, we're not suggesting actual street signs be modified. Our hope is these images serve as a love letter to the places we live (NYC for me). The people we miss. And all that unites us, even when we have to keep at least six feet apart."
Dylan's mission is simple: think differently, make beautifully. As a graphic designer and architect, Dylan draws on his passion for architecture's ability to improve the human condition in his role as master storyteller, solving communication problems with stories that capture the essence of complex architectural, engineering, sustainable design and UX concepts in the context of a clients' aspirations.
Images Dylan Coonrad, Creative Director of CannonDesign via v2com
SEARCH
SUBSCRIBE TO ENEWS
MORE NEWS
DIGITAL BUS STOPS TO COMPLETE NEW TRANSPORT TUNNEL
FLOOD WARNING SMART SIGNS
INSTAGRAMMABLE BILLBOARD
DYNAMIC PEDESTRIAN CROSSING SYSTEM
FINDING THE WAY
A SIGN OF THE TIMES