SPASA VICTORIA AWARDS
27 Aug 2012
Each year SPASA showcases excellence in the swimming pool & spa industry at the annual Awards of Excellence Gala Dinner.
Each year SPASA showcases excellence in the swimming pool & spa industry at the annual Awards of Excellence Gala Dinner. These prestigious awards cover a range of categories from finished pool & spa installations to the latest equipment innovations.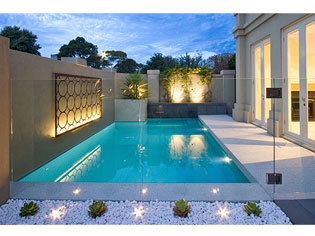 SPASA ambassador and Olympian Nicole Livingstone hosted the 2012 SPASA Awards of Excellence Gala Dinner. Due to ever-increasing industry participation the event was moved to iconic Melbourne landmark, the National Gallery of Victoria - under the spectacular glass mosaic ceiling.
Four hundred and fifty guests attended the glamorous event which was again sponsored by leading industry suppliers and supporters.
CEO of SPASA, Brendan Watkins said, "The level of excellence demonstrated by the entrants in the 2012 SPASA Awards of Excellence is extraordinary. SPASA members are truly leaders within the national industry.
Every year we have an amazing array of fantastic looking pools, spas and new products - 2012 was no exception. Our association has grown markedly in the past 3 years, we're very lucky to be enjoying record participation from industry. Consumers will ultimately be the winners - there's never been a better time to invest in a pool or spa."
Key industry stakeholders enjoyed the livewire routine of comedian Dave Hughes. Notable audience members included: Michael Kefford, Building Commissioner & Plumbing Industry Commissioner; Tony Kelly, Managing Director of Yarra Valley Water & Chairman of Water Aid Australia; Ian Swan, CEO of Aquatics & Recreation Victoria & Nigel Finney, CEO of the Savewater Alliance.
Aquarius Swimming Pools headlined as winner of the prestigious 2012 Pool of the Year Award sponsored by Remco Pool Covers & Enclosures. The winning entry is truly unique - the magnificent Peninsula Hot Springs facility includes multiple spas, pools and even a grotto.
Aquarius is owned by Chris Jackson. The Jackson family were the founders of Aquarius back in 1979 and have been Victorian trendsetters ever since. Chris has many years experience in both commercial and residential swimming pools.
SPASA Members for many years, Aquarius are based on the Mornington Peninsula. Aquarius were also winners of 2012 Best Commercial Pool sponsored by Spa Industries and Best Pool, Spa & Landscape Combination, sponsored by Remco.
The 2012 Major Product Award, the SPASA Sustainability Award - sponsored by the Savewater! Alliance was won by Waterco for their MultiCyclone Ultra filtration device. This system brings to consumers a revolution in pool filtration, combining centrifugal and cartridge filtration into one streamlined housing - creating an ultra compact filtration system that can be vertically installed. The next generation MultiCyclone Ultra - providing consumers with real water and energy savings.
The Product Innovation Award for 2012 was won by Remco Pool Covers & Enclosures, and sponsored by Poolside Magazine. The Remco Swim Jet is a completely motorised jet system for use in concrete pools and swim spas. The Swim Jet provides a fully adjustable constant flow of water, allowing swimmers to swim without ever touching the pool's end. The Remco Swim Jet uses 60-70% less energy than average swim jet systems. With a much quieter operation, and no bubbles in the flow of water, this Remco product is indeed a winner.
Rainwise Coburg has - for the third year in a row - won the SPASA Water Neutral Pool Award, proudly sponsored by Yarra Valley Water. Rainwise has everything a pool or spa owner may need in relation to water harvesting, usage and conservation. And very clearly are expert in advising on pool and spa water minimisation.
Aloha Pools won the most Gold Awards in 2012 including:
Best Residential Spa sponsored by The Pool Enclosure Company,
Best Lap Pool, sponsored by Remco Australia,
Best Renovation sponsored by Rheem Pool Heating,
Best Indoor Pool sponsored by Aquatics & Recreation Victoria &
Best Water Feature sponsored by Outdoor & Living Magazine - great work.
The Retail Salesperson of the Year Award was won by Nicole Roncari from PJ Pools. Nicole was described by one of her happy clients as "a consummate sales professional". Well done Nicole.
The Wholesale Salesperson of the Year Award was won this year by Paul (Jake) Jacobson, from BioLab Australia. Jake is a true industry leader, a passionate educator who has achieved many accolades over the years. A well deserved Award to a very popular entrant.
Naughtons Pools & Spas, based in both Shepparton & Echuca, won Best Concrete Pool by Country member sponsored by OneSteel Reinforcing and the Best Pool Shop sponsored by Davey Water Products.
From Geelong, Gordon Avenue Pools & Spas won the Best Fibreglass Acrylic, or Vinyl Lined Pool by Country Member this Award sponsored by Reltech.
Full listing of winners can be found at:
http://www.spasavic.com.au/awards-of-excellence-2012

Images from top: Aloha Pools, Best Water Feature, sponsored by Outdoor Design and Living Magazine; Baden Pools, Best Residential Courtyard Pool, sponsored by Poolside Magazine; Aquarius Pools, The 2012 Remco Pool of the Year Award.
SEARCH
SUBSCRIBE TO ENEWS
MORE NEWS
THE UNIQUE TOUCH ADDED THROUGH THE VIENNA FURNITURE SUITE
DIY SOFTWARE: SIZE UP YOUR OWN DRAIN
PARKS & LEISURE AUSTRALIA CONFERENCE RESCHEDULED
JINING ART MUSEUM SHOWCASES ORGANIC SHAPES
SCULPTURES FOR SKATERS
BEVERLY HILLS BRINGS BOTANICS SKY HIGH