SEE THROUGH SAFETY BARRIERS
20 Apr 2016
An iconic public works structure in the heart of Brisbane gets an unobtrusive security overhaul using flexible X-TEND mesh screens thanks to Ronstan Tensile Architecture.
Brisbane's iconic 76-year old heritage-listed bridge, known as the Story Bridge, has just undergone a safety upgrade with the application of innovative stainless steel products. The pedestrian walkways that straddle both side of the bridge now exhibit 3m tall, stainless steel safety barriers as a result of an outstanding collaboration between multiple project stakeholders.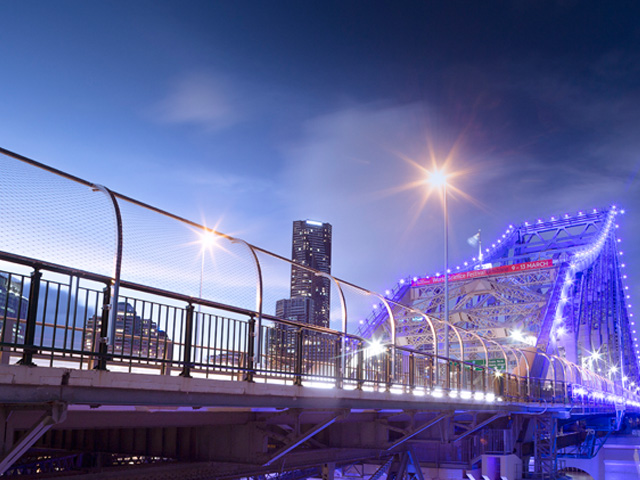 The design brief was to develop an anti-climb structure that was both functional and aesthetically appealing, while also ensuring the heritage values of the bridge were maintained. Visually, it was also a key requirement to ensure pedestrian views of the river, Brisbane City surrounds, and of the Story Bridge itself were preserved.
Ronstan Tensile Architecture were approached to assist in the development of the design options looking into supply of their ABS3 theft resistant balustrade cable system, or the Carl Stahl X-TEND Mesh, of which they are the nation's exclusive distributor. Working with their tensile expert engineers, Ronstan conducted form-finding analysis and provided the nominated reaction loads to ensure the heritage structure had capacity for the system. This resulted in the selection of the X-TEND Mesh, which provided the flexibility, aesthetic, and tensile strength required for the structure's design.
Following the erection of the stainless steel posts, Ronstan Tensile Architecture supplied and installed 3400m2 of Carl Stahl X-TEND Mesh constructed from coloured stainless steel wire rope. The stainless steel was blackened with an additional polyester amino resin, which was hardened to the wire under temperature.
The blackened X-TEND Mesh was the key to achieving an unobtrusive composition and historical aesthetic, while providing additional corrosion protection. The project was an incredible success, with the X-TEND Mesh proving to be the perfect solution for the security and fall restraint barrier.
For all enquiries regarding security and fall restraint capabilities with X-TEND Mesh, please contact James Reid on 0403 434 218 or email jreid@ronstan.com.au
For more information on Ronstan Tensile Architecture visit www.ronstantensilearch.com
SEARCH
SUBSCRIBE TO ENEWS
MORE NEWS
GLOBAL ROAD MAINTENANCE SYSTEMS PUTS SAFETY FIRST
ACO CABLEMATE | NEW WEBSITE!
TERRAGRATE: DURABLE SOLUTIONS FOR EVERY ROOFTOP SPACE
A GRATE SOLUTION
STREETSCAPE CUSTOMISATION
MULTIPOLE SECURES SMART POLES CONTRACT